The excellent, award winning, 48 & 60 month Lithuanian Džiugas cheeses, and Germanto cheese cubes are now available in the UK.
Sponsored post: I received samples of the cheeses to review. All opinions expressed in this post are my own.
Lithuanian cheeses, Džiugas and Germanto, are produced in Telšiai, one of the oldest cities in Lithuania.
Legend has it that a brave and fearless knight, a giant named Džiugas, founded the city and that Džiugas and his wife would make cheese to celebrate their love for each other.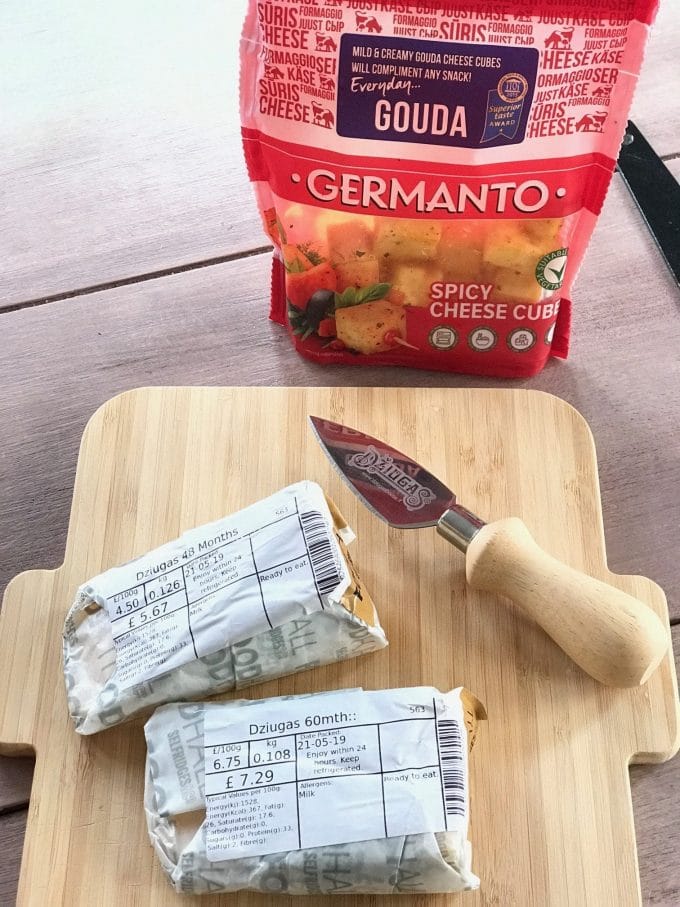 Telšiai has always been famous for its dairy products, and is home to the Žemaitijos Pienas dairy which has been making Džiugas cheese since 1924. Production of Germanto cheese cubes came about later, in 1985.
Džiugas cheeses
Džiugas is an award winning, creamy rich, hard cheese with a light golden appearance, firm texture, and crumbles easily. Unlike most hard cheeses, the rind is thin and light, and is entirely edible.
The cheese has a lovely umami flavour, and a satisfying crunch of cheese crystals or tyrosine (amino acid clusters, usually found in good quality aged cheeses), but isn't as salty as some other aged hard cheeses.
Džiugas can be used as a Parmesan, as it is perfect for grating, melting into dishes, in a salad or sandwich and as a table cheese. It also pairs wonderfully with honey, dried fruit and berries.
Džiugas cheese is so loved in Lithuania, they use it to make desserts such as cheesecake, and even a Džiugas cheese ice cream, which I am told is very good.
Džiugas cheeses are naturally produced
The cows in the area of Telšiai graze in ecologically protected pastures, on a diet of herbs and meadow flowers. The cheese is made from summer milk, and the cows' floral and grassy diet can be detected even in the more mature cheeses.
Džiugas cheeses do not contain preservatives and are vegetarian as they use a vegetarian rennet. They are also lactose free as fermentation reduces the amount of lactose, and the long ageing process reduces it even further.
A great deal of expertise is involved in controlling the storage and maturation process to give the cheese its distinctive yet subtle salty crunch. Regular inspections are carried out to monitor the cheeses and determine when to turn or move them during the long ageing process.
I love that classical music of a famous Lithuanian composer fills the air of the cellars where the cheeses are stored.
Aged to different maturations
Džiugas cheeses are usually available in a range of four maturations:
Mild (12 months) – mild creamy with elegant, fruity/floral overtones
Piquant (18 months) – rich, complex savoury/sweet taste hints at fruitiness with nutty caramel overtones
Delicate (24 months) – rich taste is more complex with a savouriness and a nutty caramel and spicy fruitiness, with a definite crystalline crunch
Gourmet (36 months) – rich, complex savoury/sweet taste, with overtones of caramel, nuttiness and the quality crystalline crunch of a gourmet cheese. Every mouthful melts and has a crunch, resulting in tiny taste explosions in every bite.
Last month, they launched two more aged cheeses in limited quantities, at Selfridges in London.
Exclusive (48 months)
Luxurious (60 months) – few cheeses have the ability to mature this long and deliver such flavour. This is the highest quality. The flavour is still identifiably Džiugas, with a richness that is now intense.
This cheese is able to astonish even cheese experts, connoisseurs and gourmets. It provides a rainbow of flavours and fragrances and has an almost architectural texture. It is like an elaborate feast in one mouthful. It is an experience and an honour to eat. Džiugas
The Exclusive and Luxurious cheeses are exquisite with their deeper and more complex flavours and crumbly texture.
The flavours range from the younger cheeses which are creamier and sweeter to the more mature varieties with a savoury taste that is warm, with a spicy fruitiness and the quality crystalline crunch of a gourmet cheese.
These cheeses are absolutely worth trying!
Grated Dziugas is available in Sainsbury's and the range can be found at selected Budgens stores, and at good independent cheese shops.
Germanto cheese cubes
The Žemaitijos Pienas dairy also produce Germanto cheese, which is a mild 6 week matured Gouda.
They come in different flavours, such as Original or Spicy, and are packaged in resealable pouches. Each packet contains 100g of firm, pale yellow fermented cheese cubes, with a slightly soft interior.
Germanto cheese is made using 4 ingredients:
fresh milk
yeast
an enzyme (the enzyme used is non-animal, making this cheese suitable for vegetarians)
salt.
The cubes are mixed with flavourings such as mixed spices and paprika, as is the case with the Spicy Cheese Cubes.
As the cheese is made with 100% cows milk, it is great for cooking as the cubes melt easily. They are all the same size for uniform cooking, melting into sandwiches, frying, and other dishes to add a tasty burst of cheese.
Germanto cheese cubes make a tasty keto snack, or a delicious addition to a salad (see recipe below).
Note: This cheese contains lactose.
Germanto is available at Sainsbury's for £1.50 for a 100g packet.
More articles on cheese
⭐️ Are you making this recipe? Do let me know how it turned out in the comments! And please give it a star rating below!
Instagram – I love seeing your creations, so post a picture, tag @endofthefork and hashtag #endofthefork
⚜
📋 Recipe
Salad with Germanto Cheese Cubes
A quick and refreshing keto salad using Germanto Spicy Cheese Cubes
Ingredients
Salad
6

ounces

mixed salad leaves

1

cup

cherry tomatoes

halved or quartered

100

grams

Germanto Spicy Cheese Cubes

⅓

cup

olives

any type, with the stone removed and sliced
Dressing
3

tablespoons

olive oil

good quality extra virgin

1.5

tablespoon

apple cider vinegar

1

teaspoon

Dijon mustard

salt & pepper

to taste
Instructions
Mix the salad ingredients together in a large mixing bowl.

Combine all the ingredients for the dressing in a bowl and mix well till fully incorporated.

Pour the dressing over the salad and mix together so the leaves are all coated. Serve straight away.
Notes
Serve the salad after adding the dressing.
MEASUREMENT NOTES
The ingredients here on EOTF are set out in grams & milliliters and in US cups & spoons.
Nutrition
Calories:
421
kcal
Carbohydrates:
7
g
Protein:
16
g
Fat:
38
g
Saturated Fat:
12
g
Sodium:
411
mg
Potassium:
309
mg
Fiber:
1
g
Sugar:
2
g
Vitamin A:
1420
IU
Vitamin C:
36.7
mg
Calcium:
31
mg
Iron:
1.3
mg
Did you make this recipe?
I'd love to know how it turned out! Let me know by leaving a review below, or snap a photo and share it on Instagram tagging me @Endofthefork.
SUBSCRIBE for new recipes