There are several techniques to achieve deliciously succulent, tender meat.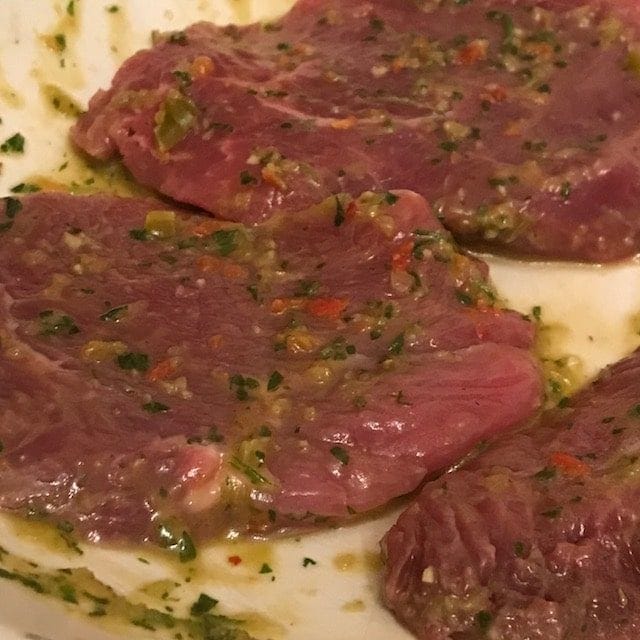 There are several techniques to consider for tenderising meat depending on the type of meat, quality and cut, plus the amount of time you have to prepare and how you wish to cook it.
Lean cuts such as beef fillets or chicken breasts do not require tenderising. To make them tender and succulent ensure they are dry, not wet and cooked over a high heat for a short amount of time.
For other cuts, there are a variety of techniques to try.
Find more useful tips for the home cook such as how to cook meats to the correct temperature and why you should not overcrowd the pan.
Click the Subscribe button above to get more articles like this to your inbox!
Jump to:
Using a Mallet
Almost any kind of meat can be pounded to create thinner, flatter cuts which will cook faster and more evenly.
Although chicken breasts do not require tenderising, they can be pounded and flattened to wrap around ingredients e.g. chicken breast wrapped in rashers and stuffed with spinach and cheese.
Pounding breaks down the protein strands, making them shorter which results in a thinner and more tender cut.
Jaccard meat tenderiser
This is another method for achieving similar results. It is useful for tougher cuts of meat, such as cheaper cuts of beef, when cooking at high temperatures for a short amount of time.
The Jaccard tenderiser is comprised of many small needles which are pressed into the meat, puncturing the surface and severing some of the connective tissue.
These small holes help the meat absorb flavours more efficiently from a marinade.
For slow cooking, it is best not to use this method as too much moisture is lost through the small cuts in the meat.
Braising
This technique is used for tougher cuts of meat which have some fat attached or marbled through it. It is not appropriate for lean cuts, as it will dry out the meat rendering it chewy.
As the fat melts, it imparts a great deal of flavour to the dish and moistens the muscle fibres as they cook, preventing them from bunching up very tightly and drying out.
Braising involves cooking the meat fully submerged in a flavoursome liquid at a low temperature (somewhere in the 60℃/140℉ – 80℃/175℉ range) for a long period of time (anything over 2 hours).
The connective tissue softens and the tough collagen turns to gelatin, producing succulent and tender meat.
Marinating
This is the best method to tenderise tougher meats such as goat, mutton or lamb.
Marinating gives the surface of the meat a delightful flavour, but using a Jacquard first enables the marinade to penetrate slightly below the surface.
It is important to note that marinating requires a small amount of an acid, or an enzymatic ingredient for tenderisation to take place.
Acids for tenderising
lemon juice
vinegar
yogurt
buttermilk
sour cream
Enzymes for tenderising
bromelain in pineapples
papain in papayas
actividin in kiwifruit
ficin in figs
Important advice: If the acid is too strong, or the meat is left to marinate for over 2 hours, the meat will begin to 'cook' and become tough. And if the enzymatic tenderisation is left for much longer, such as overnight, the meat will become mushy.
Dairy
The most effective long-term marinades are yogurt, milk, buttermilk and sour cream as they are mildly acidic and can therefore penetrate the meat.
It is thought the calcium breaks down proteins in a similar way to the ageing process thereby tenderising effectively.
Yogurt and buttermilk are often used as a tenderising agent in Indian, Turkish and some African cuisines.
Buttermilk is used to tenderise the lamb in this Kashmiri recipe, and for a moist and fluffy batter for Waffles and Frickles. It is also popular with southern cooks for delicious Southern fried chicken.
More Cooking Tips
You may also like …