Safely store meats and poultry, and how to tell if they are spoiled.
You may have had moments of uncertainty when unwrapping steaks or the roast beef you were saving for dinner, to find the colour has changed and it now has an unfamiliar green tinge to it.
I am frequently asked questions on the colour of meats and poultry, and how to tell if they are spoiled and unsafe to eat.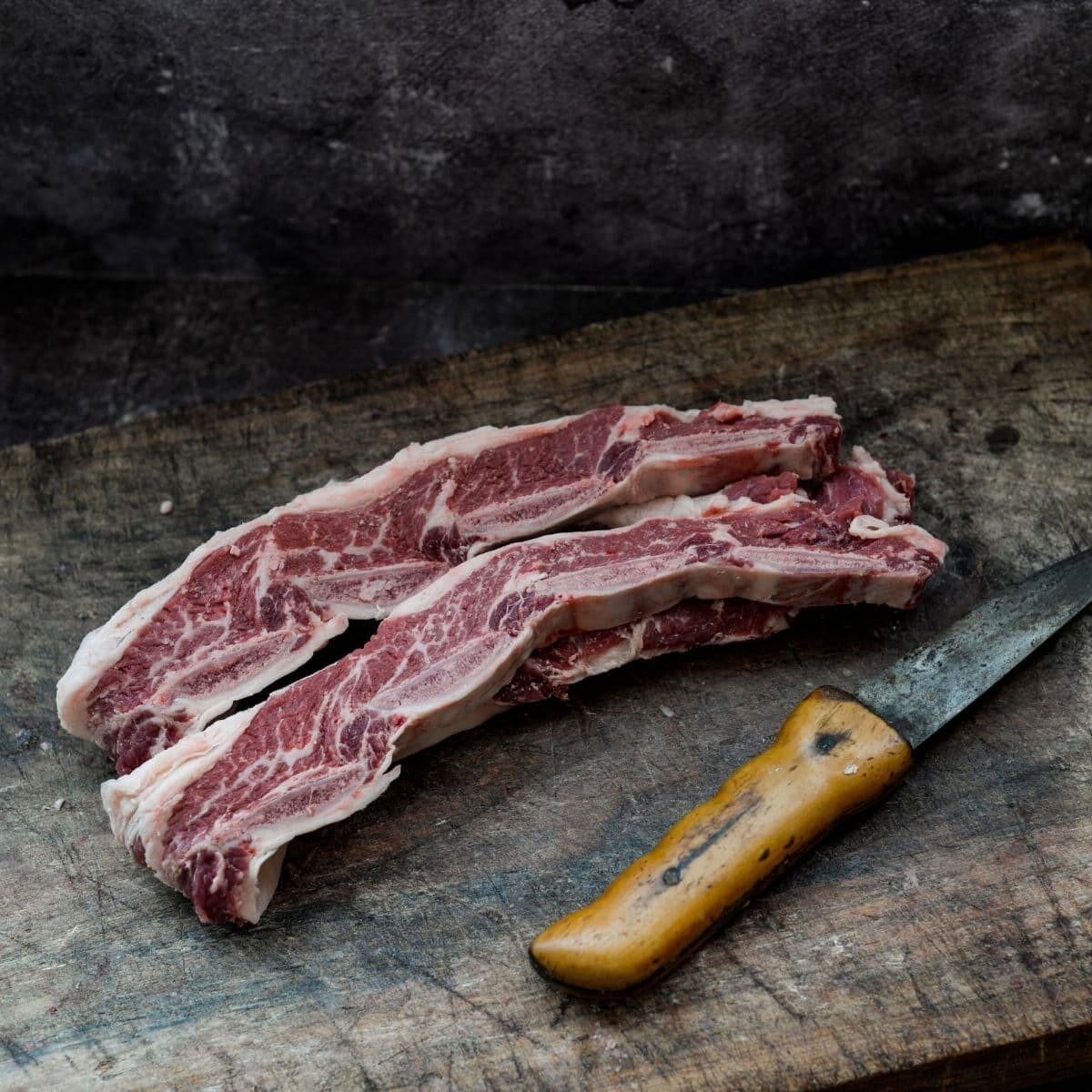 Jump to:
What can we tell from the colour?
It is useful to know that the colour of fresh meat changes depending on several factors.
The colour of meat is associated with a protein stored in the muscle called myoglobin.
Beef, lamb and goat meat all have higher levels of myoglobin compared with pork, veal or poultry, while the meat of wild animals will have the highest levels due to animals in the wild being more physically active.
When myoglobin comes into contact with oxygen in the air it gradually begins to oxidise and high myoglobin meats will begin to change colour from a dark red/purple to a brighter red.
This change in colour is known as blooming, and we consider this to be the ideal colour for red meat.
However darker or lighter shades are not necessarily an indication that the meat has spoiled as variations will occur according to the breed, age, diet, exercise, freshness, packaging and how it is stored.
For example meat from older animals and those which benefit from more exercise tends to be darker.
Beef
Very fresh beef as well as vacuum packed beef will be purplish-red in colour.
As meat is exposed to air and light, it gradually turns cherry-red and eventually after a few days it becomes brownish-red.
Darkened beef does not mean it is spoiled and is suitable for consumption as long as it is within its best before dates and has been stored correctly.
The same goes for packaged ground beef which may be darker on the outside, while remaining red on the inside.
It is also quite normal to find steaks displaying different best before dates, in a range of shades from a cherry-red to brownish-red.
Beef chunks, steaks or slices will keep in the fridge for 3-4 days, or 4-12 months in the freezer. Fresh ground beef should be kept chilled and used within 48 hours.
See the Meat & Poultry Cold Food Storage Chart below for storage time & temperatures.
Correctly stored beef within its use by dates may look slightly iridescent in parts and have a slight greenish tinge.
This is does not mean it has spoiled but it is due to its high iron content, fat and other compounds as well as how light reflects on its surface. This meat is safe to eat.
Veal
Veal has a much lighter colour than beef. The meat of a milk-fed calf is light pink but once the calf is weaned and starts eating grass, the flesh begins to darken.
Cooked veal will be browned on the outside and light pink inside.
Find out more about cooking your meats to a safe temperature.
How to prevent discolouration
To prevent further discolouration of red meat, wrap the cuts in paper so the meat is not exposed, and then in plastic wrap to prevent any exposure to air and light.
Label and store the packets of meat in the fridge at a maximum temperature of 4℃/39℉ (this is the maximum temperature your fridge should be set to).
Poultry
Poultry consists of both white and dark meat.
Raw breast cuts are light pink turning white when heated, while thighs and drumsticks are a deeper pink turning light brown when cooked.
Younger poultry may have a slightly blueish tinge as it has less fat under the skin, while corn-fed chicken or one fed on marigolds will have yellow meat and skin.
Young chickens may also have a little darkening around the bones when cooked as the bones have not yet fully calcified, allowing some pigment to escape. This is also natural and the meat is safe to eat.
Ideal Surface Colour Of Fresh Meat, Fish & Poultry
| Food | Colour |
| --- | --- |
| Beef | cherry red |
| Lamb/Goat | dark cherry-red |
| Pork | greyish-pink |
| Veal | pale pink |
| Fish | pure/grey white to pink |
| Poultry | grey-white to pink |
Meat and poultry should be wrapped well and safely stored at the correct temperature to prevent the growth of harmful bacteria which could lead to food poisoning.
Freezer burn
Meat and poultry stored in the freezer for long periods of time may develop white patches from freezer burn.
This may also happen if the packaging becomes loose allowing the contents to be exposed to air.
As long as there has been no cross-contamination from other stored ingredients these parts are safe to eat but will be dry and tasteless, so it is best to trim them away.
Smoked and cured meats
Chemicals, such as nitrites, used for curing may also affect the colour of meat.
Smoked poultry is pink due to colour added in the smoking process.
Meat & Poultry Cold Storage Chart
Food
Type
Fridge
4℃/39℉
or below
Freezer
-18℃/ 0℉
or below
Bacon
1 week
1 month
Sausage
Raw sausages Chicken/turkey/pork/beef
1-2 days
1-2 months
Cooked sausages Chicken/turkey/pork/beef

1 week
1-2 months
Ground meats
Beef/turkey/veal/pork/lamb/goat/any combination
1-2 days
3-4 months
Fresh cuts
Fresh beef, veal, lamb, goat, pork
3-4 days
4-12 months
Fresh poultry
Whole chicken/turkey
1-2 days
9 months
Pieces chicken/turkey
1-2 days
1 year
Leftovers
Cooked meats/poultry
3-4 days
2-6 months
How to tell if meat has spoiled
If meat or poultry has passed its use by or storage date, was not packaged properly, or stored at the correct temperature, it may no longer be fit for consumption.
Do not taste meat to determine if it has spoiled and cooking spoiled meat will not destroy the toxins nor make it safe to eat.
These indications below show spoilage in which case the meat should be thrown away:
there may be fading or darkening in colour with an unusual or offensive odour. The bad smell indicates presence of harmful bacteria and toxins (it may smell of ammonia or sulfur).
the surface may be sticky or slimy to touch.