We share important tips on how to preserve your homemade sauces for prolonged storage while keeping their great flavour.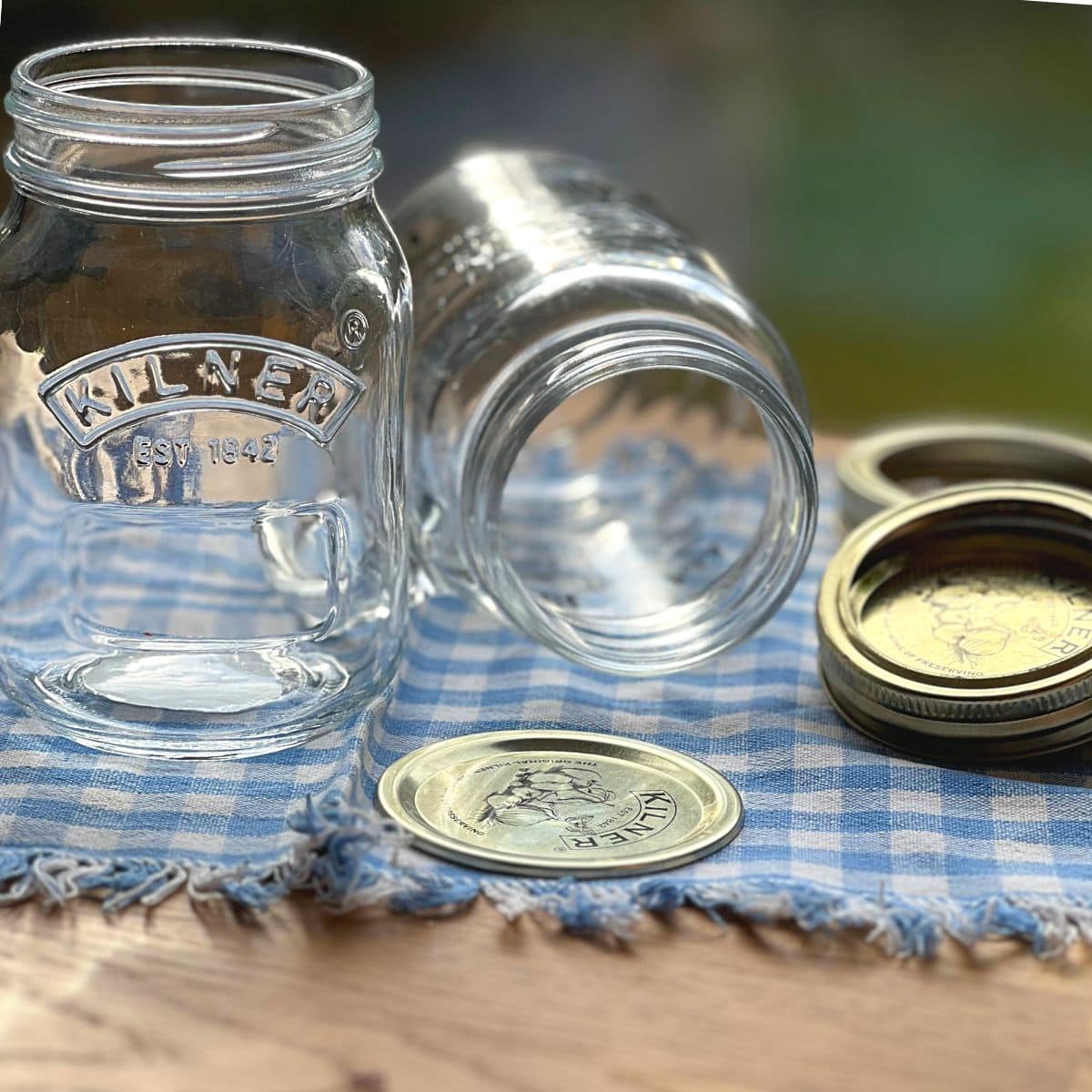 This article came about thanks to a reader's question on how to bottle our easy strawberry coulis.
While our strawberry coulis can be stored safely in the fridge, it will only keep like this for a few days.
For prolonged storing and to ensure freshness the safest way to do this is by canning.
Canning also works for our delicious homemade cherry sauce, applesauce or other fruit or vegetable sauces.
Did you know: Strawberries have a pH value of around 3.5, cherries between 3.2-4.5, and applesauce between 3.3-3.6, classifying them all as acidic.
The heat processing for these acidic fruit sauces requires a lower temperature than alkaline foods and takes just 5 minutes.
For best results always use fresh ingredients in preparing the sauce as old produce on the verge of decay will not keep for very long (see troubleshooting below).
Click the subscribe button to receive more cool tips like this direct to your inbox!
Jump to:
Top tips for canning
Canning safely prolongs the freshness and quality of sauces as long as the following are adhered to:
select fresh ingredients
lemon juice (and sometimes sugar) act as preservatives
use sterlized jars suitable for canning with self-sealing lids
hot filling the jars (see below)
process filled jars in boiling water or a pressure canner for the correct amount of time.
Glass jars
Use thick glass canning containers so they withstand heat and their rims are thick enough to form a good seal.
Select containers that are round rather than square, for easy pouring and so the sauce does not stick in the corners.
Glass jars are ideal for two reasons:
acidic sauces will not react with glass
they are ideal for hot filling (see below)
Mason jars with screw on ring caps and lids work best.
Examine the jars carefully for chips or cracks and make sure the flat lid that goes between the rim and screw cap is in good condition.
The screw cap should form a snug fit otherwise air will get in.
One way to check is to fill the container halfway with water, close with the lid and screw cap, then turn upside down and give it a little shake. If it leaks then the seal is faulty – the good news is replacement lids are still fairly cheap and easy to find.
The metal lids and screw caps should lie flat and be free from rust. Do not use old indented lids as they won't seal well.
To stop metal screw caps from rusting, rub a tiny amount of cooking oil round the inside of the cap while storing, then wash off with soapy water before using.
Sterilize the equipment
You will need to sterilize equipment that comes into direct contact with the sauce, these being:
the jars
their lids (screw caps don't need to be sterilized as they don't come into contact with the sauce)
a spoon or metal funnel for transferring to containers
To sterilize the equipment, wash on the hottest setting of your dishwasher or wash by hand in warm soapy water. Then place the equipment in a large bowl and rinse through with boiling water.
You will need to use the jars while they are still hot.
Filling the jars
Fill freshly sterilized jars while they are still hot with the sauce (while also hot) to prevent development of bacteria without a need for using preservatives.
Use a sterilized spoon or metal funnel to fill the jar or bottle three quarters full. Then using an oven mitt or tea towel, gently tap the jar on the counter so the sauce settles and to release any trapped air bubbles. Continue filling till the sauce is almost to the top.
Leave a quarter inch headspace (below the rim) so that when the sauce is processed it has room to expand, expelling air and creating a vacuum. This will prolong freshness of the sauce as air accelerates decay.
Wipe the rim with a dampened paper towel so the lid doesn't stick then close securely with the lid and screw cap but not too tightly (just as you would close a jam jar that you wish to open again on your own without sweat and tears).
Heat processing
This is the most important part of the canning process and one that will ensure your products can be stored safely.
Heat processing will vacuum pack the sauce thereby destroying any microorganisms and prolonging the freshness of the product.
The USDA recommends correct canning methods are followed and health and safety guidelines carefully adhered to in order to prevent any risk of illness.
Once the jars are closed, place in a canner filled with water. The best for home use are the boiling water canner or the pressure canner. For safety reasons, read through and carefully follow the instructions.
The temperature for heat processing will vary depending on the acidity value of the foods being canned for example, alkaline foods require higher temperatures (around 116℃-120℃/240℉-250℉ compared to acidic foods (100℃/212℉).
For higher altitudes adjust according to the temperature at which water boils for you.
Our strawberry coulis and cherry sauce require just 5 minutes in a boiling water canner – add 1 minute for every 1000 feet above sea level.
During the heating process the pressure increases and air and contents of the jar expand forcing excess air to escape through the screw cap.
On cooling, the pressure decreases and as the air has escaped, creates a vacuum which seals the lid pulling it downwards.
A lid which appears sucked downwards indicates that a vacuum has been created and the canning has been successful.
Set the jars aside aside to cool for 12 to 24 hours during which time the contents will settle.
Do not retighten their lids, but once they have cooled replace the two-part screw caps and lids with a regular single screw cap (if left on the two-part cap may become difficult to remove), then store the jars safely.
Storing
You will want to clearly label the jars then store freshly canned sauces in a cool dry place for around 6-8 months.
Once opened, keep the jar in the refrigerator and consume within a week.
Trouble shooting
If the sauce develops mould or discolouration, discard the sauce. It will either be due to using old fruit or not sterilizing the equipment properly.
If a seal fails to develop, there may be a fault with the screw cap, so replace with a fresh cap and process again within 24 hours. Unprocessed sauce will keep in the fridge for up to four days, or you can freeze it in a suitable container for up to a month.