This two-step recipe for whipped butter doubles the quantity making it last longer.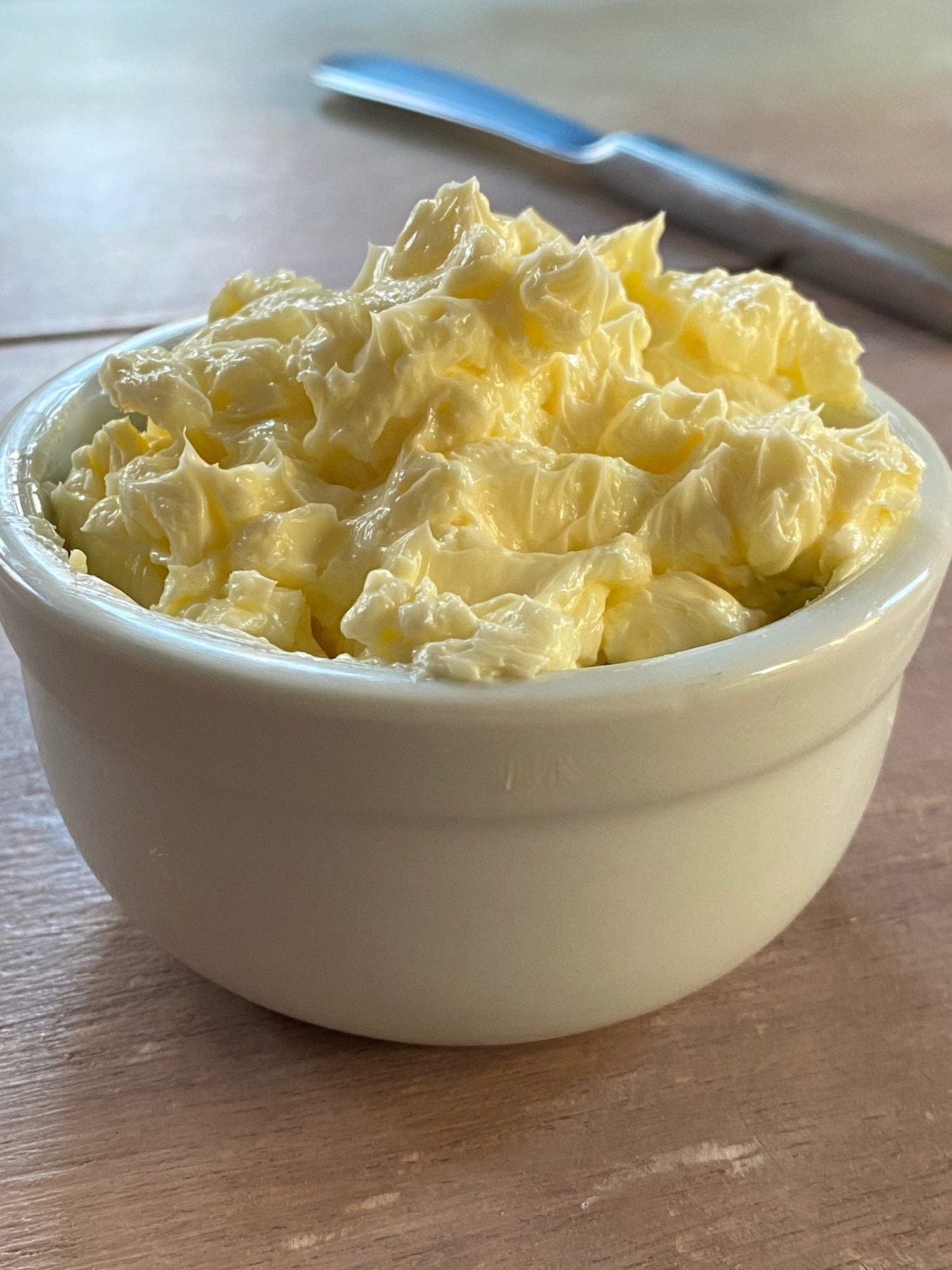 We get through quite a bit of butter mainly in baking but also for sauces and sauteing vegetables. I usually stock up when its on offer, keeping several bars in the fridge and the rest in the freezer.
Butter adds flavour giving a creamy richness to the dish and occasionally contributing to texture.
For table use or to garnish a dish, we like to use whipped butter.
Hit the Subscribe link above or on the side to get more recipes like this.
Jump to:
Check out our great tips and on How To Store Butter, or try 10 Delicious Compound Butter recipes.
Why whip butter?
Whipping butter doubles the quantity so half a cup of butter will make 1 cup of whipped butter.
When butter is whipped it becomes aerated and light, so it remains creamy but becomes easier to spread. A little goes a long way making it more economical and lower in fat.
Whipped butter is great for table use or to finish off a dish as it is softer and more delicate than regular butter.
It is delicious on all sorts of breads, muffins, pancakes, waffles, and even as a garnish for vegetables and meats such as corn on the cob, baked potatoes, steak, grilled fish, etc.
See below for some ideas on how to add extra flavour to whipped butter.
Note: whipped butter is not suitable for baking.
So for table use we love whipped over regular butter for several reasons:
it's easier to spread
it is lighter and softer, and can look more elegant when piped with an icing bag
doubles the quantity so you end up with twice the amount of butter
it's more economical
a teaspoon of whipped butter contains half the fat of non-whipped butter
How to make it
You can use either salted or unsalted butter.
Make sure to start with softened butter. If you usually store butter in the fridge, remove it 30 minutes to 1 hour ahead of time.
Then use a hand mixer or a stand mixer to fully incorporate the butter with the milk till it is light and fluffy.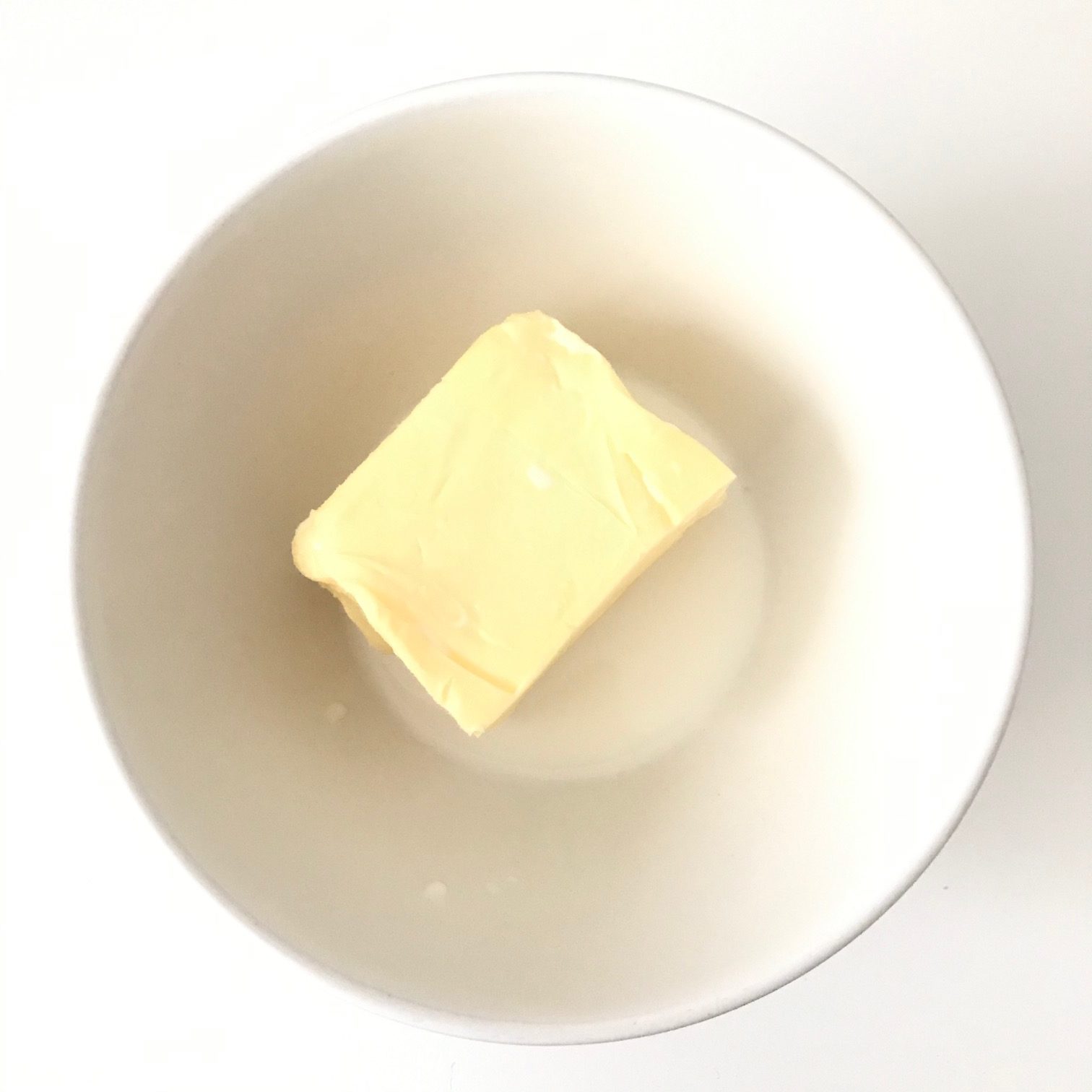 Can you over-whip butter?
As the butter is whipped, a small amount of heat is generated causing the already softened butter to melt.
Over-whipping creates too much heat, melting the butter so it will not aerate or become fluffy.
Adding flavour
Whipped butter with herbs – mix in finely chopped fresh herbs such as parsley, thyme, sage, rosemary or oregano for extra flavour. This makes a tasty spread for sandwiches or garnish for grilled meats and vegetables!
Whipped garlic butter – mince a medium garlic clove and whip it into the butter adding a little sea salt and fresh black pepper.
Sweet whipped butters, to serve on breads, desserts, carrots, sweet potatoes, pumpkin, pancakes and waffles. To the quantity of whipped butter in the recipe below, mix in any combination of these:
1 tablespoon honey
1 tablespoon maple syrup
¼ teaspoon ground cinnamon or ½ teaspoon vanilla and 2 tablespoons brown sugar
chopped berries or fruit
Storing
To ensure whipped butter remains light and soft, cover with plastic wrap and keep in a cool part of the kitchen. The salt or sugar acts as a preservative keeping it fresh for a few days.
Storing whipped butter in the fridge or freezer will cause it to lose its air and lightness and will make it harden, causing it to return to its original butter form.
Note: re-freezing butter may affect its flavour and texture.
You may also like …
⭐️ Are you making this Whipped Butter recipe? Do let me know how it turned out in the comments! And please give it a star rating below!
Instagram – I love seeing your creations, so post a picture, tag @endofthefork and hashtag #endofthefork
⚜
📋 Recipe
How To Make Whipped Butter
This two-step recipe doubles the quantity of butter, making it last longer.
Ingredients
110

grams

salted butter

½ cup, softened

60

milliliters

whole milk

¼ cup
Instructions
110 grams salted butter,

60 milliliters whole milk

In a medium bowl, add the butter and milk.

Whip on low speed for 1 minute, then on high for 3 minutes, till light and fluffy.
Notes
*If your butter is chilled from the fridge, leave it to soften on the counter for 30 mins to 1 hour.
Cover with plastic wrap and keep in a cool part of the kitchen.
MEASUREMENT NOTES
The ingredients here on EOTF are set out in grams & milliliters and in US cups & spoons.
Nutrition
Calories:
851
kcal
Carbohydrates:
3
g
Protein:
3
g
Fat:
94
g
Saturated Fat:
59
g
Cholesterol:
250
mg
Sodium:
837
mg
Potassium:
81
mg
Sugar:
3
g
Vitamin A:
2935
IU
Calcium:
96
mg
Did you make this recipe?
I'd love to know how it turned out! Let me know by leaving a review below, or snap a photo and share it on Instagram tagging me @Endofthefork.
SUBSCRIBE for new recipes