Find out what's in season now and why we should be eating seasonally.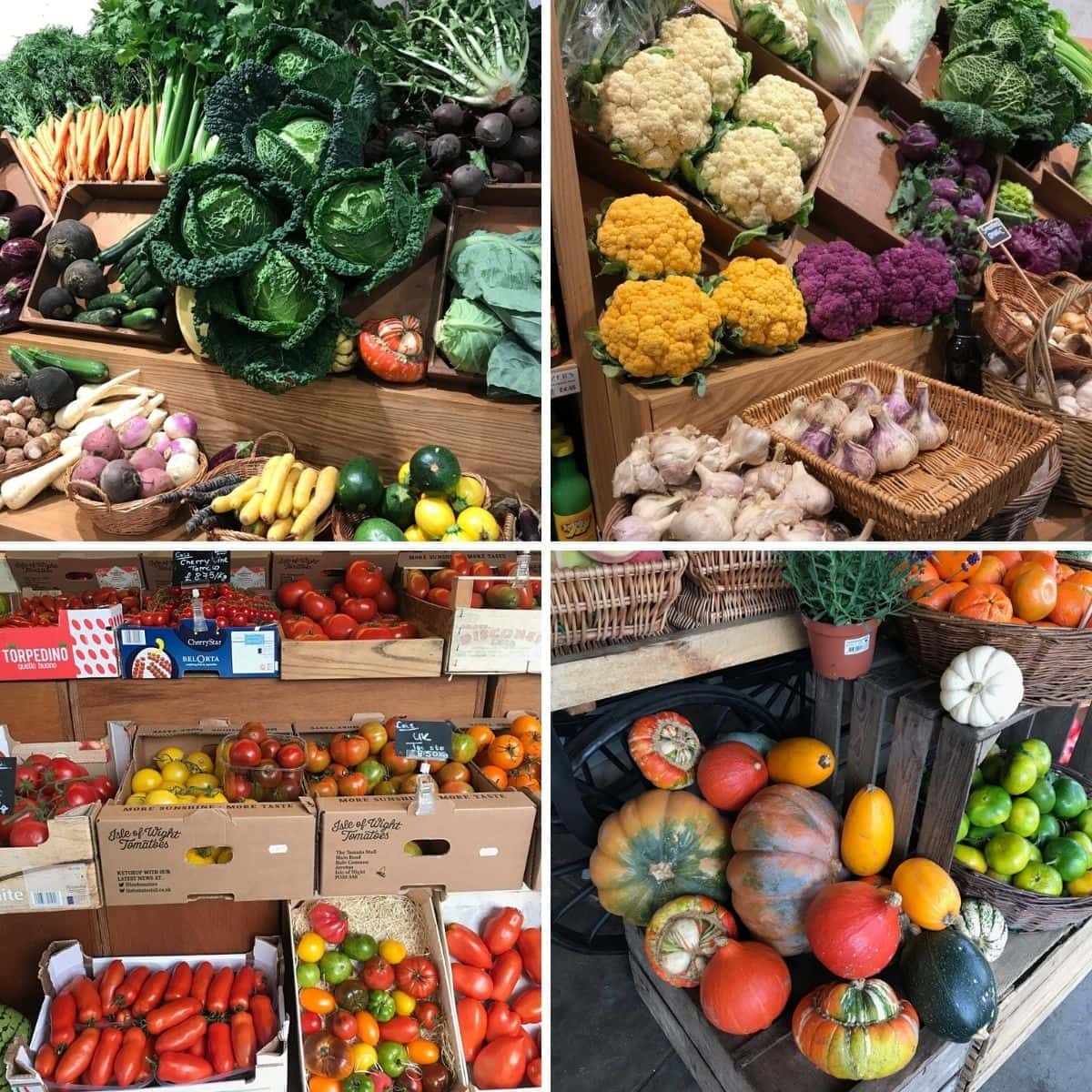 Have you ever wondered why the salad you had on holiday tasted so much better than the one you made later on at home?
You may have found Spanish bell peppers or Italian lemons or tomatoes in your local store quite easily, but they did not taste quite as delicious.
Although supermarkets always seem to be full of fresh produce, it is worth finding out which fruit and vegetables are in season right now and for some seasonal meal planning.
Jump to:
As featured in
This article was featured in Focus magazine (May, 2022 edition).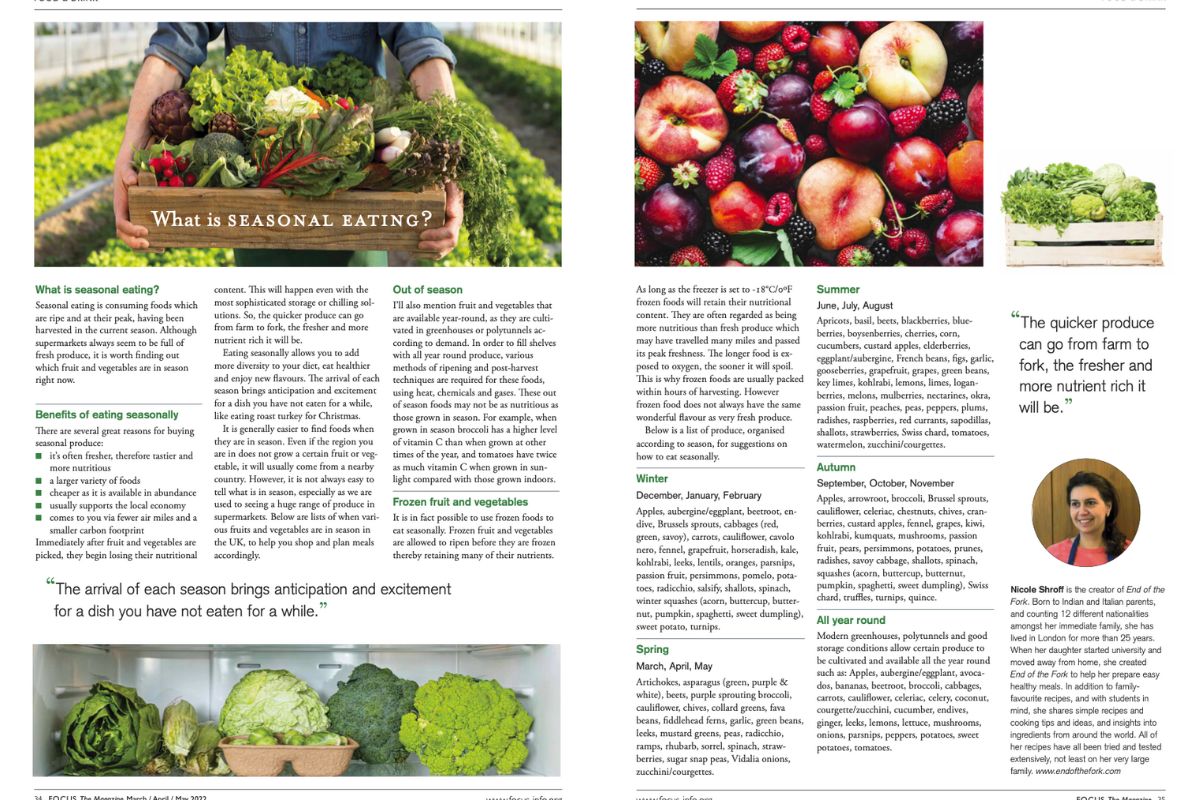 What is seasonal eating?
Seasonal eating is eating foods which are ripe and at their peak, having been harvested in the current season.
Why should we do it?
There are several great reasons for buying seasonal produce:
it's often fresher, therefore tastier and more nutritious
enjoy a larger variety of foods
cheaper as it is available in abundance
usually supports the local economy
comes to you via fewer air miles and a smaller carbon footprint
Immediately after fruit and vegetables are picked, they begin losing their nutritional content. This will happen even with the most sophisticated storage or chilling solutions.
So the quicker produce can go from farm to fork, the fresher and more nutrient rich it will be.
Eating seasonally allows you to add more diversity to your diet, eat healthier and enjoy new flavours. The arrival of each season brings anticipation and excitement for a dish you have not eaten for a while, like eating roast turkey for Thanksgiving or Christmas.
It is generally easier to find foods when they are in season. Even if the region you are in does not grow a certain fruit or vegetable, it will usually come from a nearby country.
However, it is not always easy to tell what is in season, especially as we are used to seeing a huge range of produce in supermarkets. Below are lists of when various fruits and vegetables are in season, to help you shop and plan meals accordingly.
The availability of seasonal produce will vary in different parts of the world.
Out of season produce
I have also mentioned below fruit and vegetables that are available all year round, as they are cultivated in greenhouses or polytunnels according to demand.
In order to fill shelves with all year round produce, various methods of ripening and post harvest techniques are required for these foods, using heat, chemicals and gases.
These out of season foods may not be as nutritious as those grown in season. For example, when grown in season broccoli has a higher level of vitamin C than when grown at other times of the year, and tomatoes have twice as much vitamin C when grown in sunlight compared with those grown indoors.
Frozen fruit and vegetables
I want to also mention frozen foods, as it is in fact possible to use them to eat seasonally.
Frozen fruit and vegetables are allowed to ripen before they are frozen thereby retaining many of their nutrients.
As long as the freezer is set to -18℃/0℉, frozen foods will retain their nutritional content. They are often regarded as being more nutritious than fresh produce which may have travelled many miles and passed its peak freshness.
The longer food is exposed to oxygen, the sooner it will spoil. This is why frozen foods are usually packed within hours of harvesting.
However frozen food does not always have the same wonderful flavour as very fresh produce.
Below are lists of produce, organised according to season, for suggestions on how to eat seasonally.
Winter produce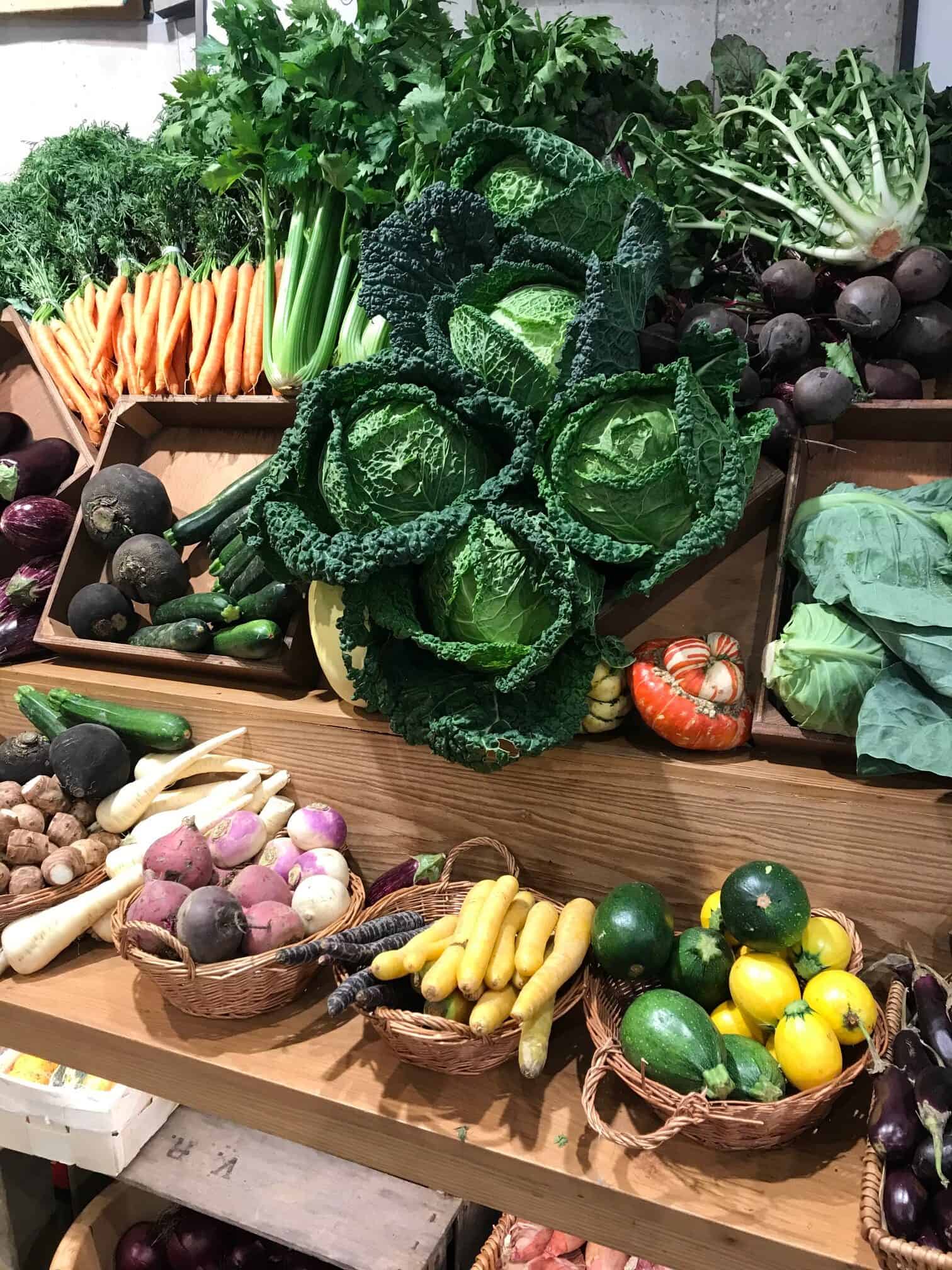 December, January, February
Apples, eggplant, beetroot, endive, brussel sprouts, cabbages (red, green, savoy), carrots, cauliflower, cavolo nero, fennel, grapefruit, horseradish, kale, kohlrabi, leeks, lentils, oranges, parsnips, passion fruit, persimmons, pomelo, potatoes, radicchio, salsify, shallots, spinach, winter squashes (acorn, buttercup, butternut, pumpkin, spaghetti, sweet dumpling), sweet potato, turnips.
See all winter recipes →
Spring produce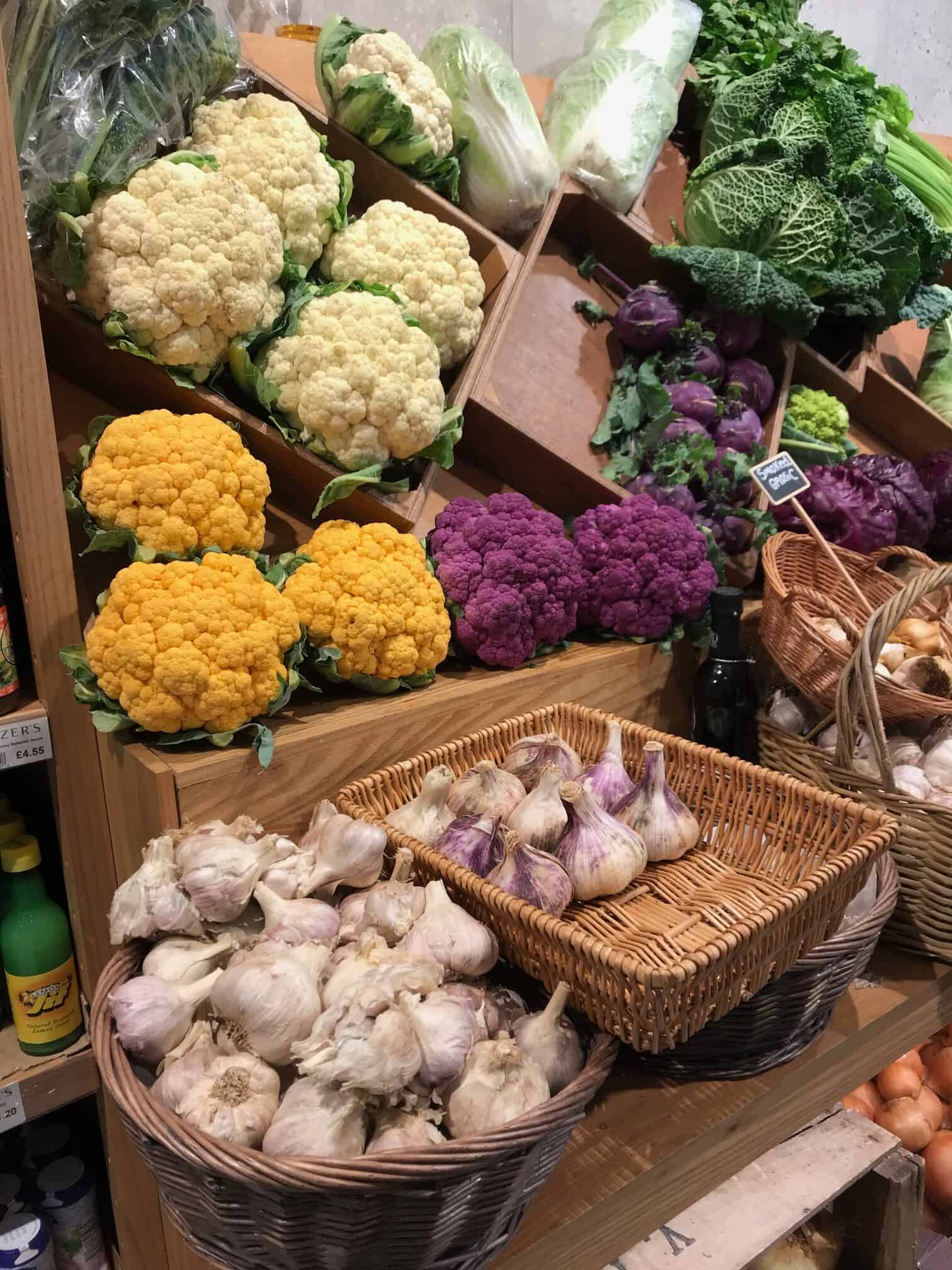 March, April, May
Artichokes, asparagus (green, purple & white), beets, purple sprouting broccoli, cauliflower, chives, collard greens, fava beans, fiddlehead ferns, garlic, green beans, leeks, mango, mustard greens, peas, pineapple, radicchio, ramps, rhubarb, sorrel, spinach, strawberries, sugar snap peas, Vidalia onions, zucchini/courgettes.
See all spring recipes →
Summer produce
June, July, August
Apricots, basil, beets, blackberries, blueberries, boysenberries, cherries, corn, cucumbers, custard apples, elderberries, eggplant/aubergine, french beans, figs, garlic, gooseberries, grapefruit, grapes, green beans, jackfruit, key limes, kohlrabi, lemons, limes, loganberries, lychee, melons, mulberries, nectarines, okra, passion fruit, papayas, peaches, peas, peppers, plums, radishes, raspberries, red currants, sapodillas, shallots, strawberries, Swiss chard, tomatoes, watermelon, zucchini.
See all summer recipes →
Autumn/fall produce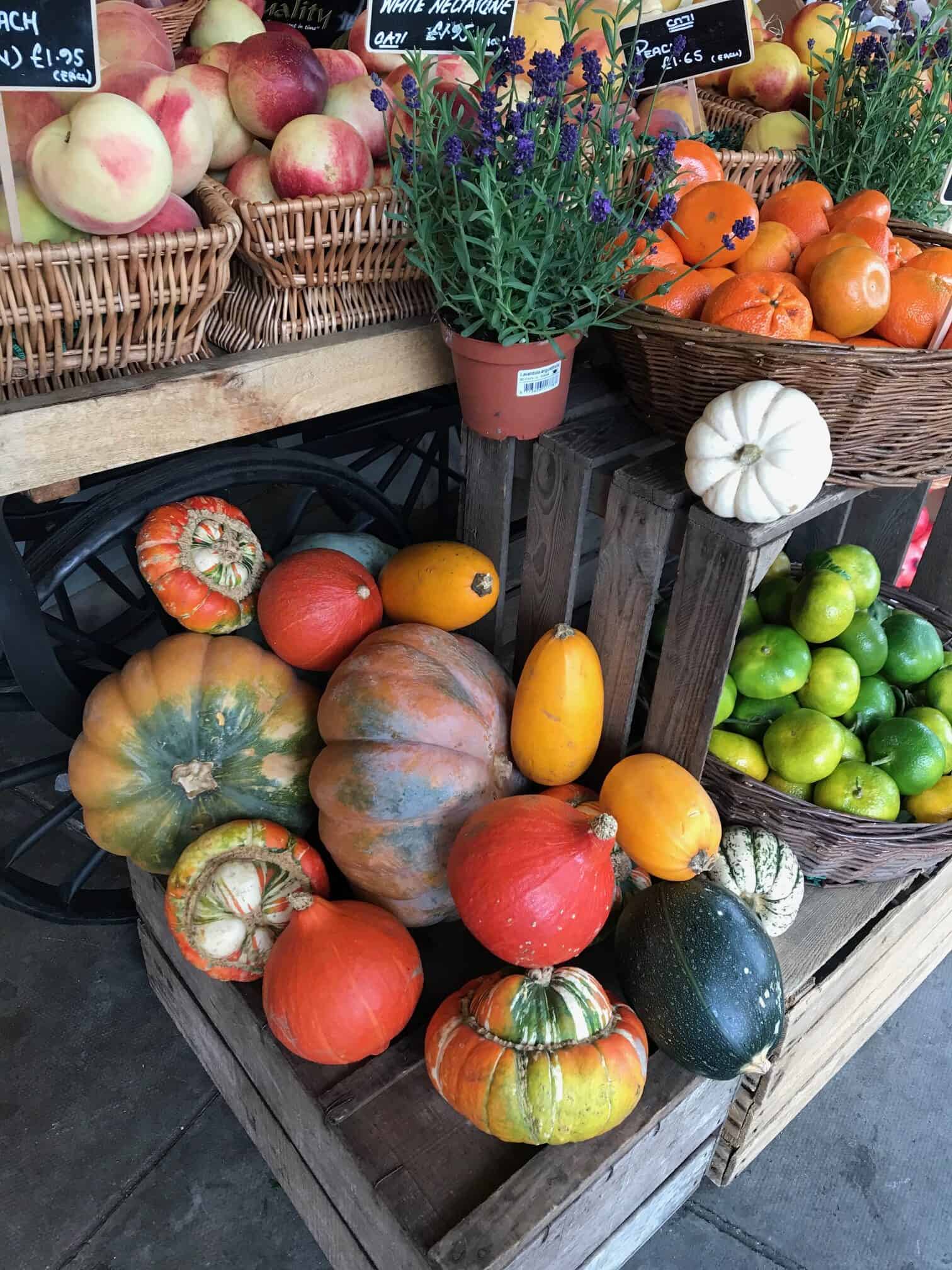 September, October, November
Apples, arrowroot, broccoli, Brussels sprouts, cauliflower, celeriac, chestnuts, chives, cranberries, custard apples, fennel, grapes, guava, kiwi, kohlrabi, kumquats, mushrooms, papayas, passion fruit, pears, persimmons, pineapple, pomegranate, potatoes, prunes, rabe, radishes, savoy cabbage, shallots, spinach, squashes (acorn, buttercup, butternut, pumpkin, spaghetti, sweet dumpling), Swiss chard, truffles, turnips, quince.
See all autumn recipes →
Year round produce
Modern greenhouses, polytunnels and good storage conditions allow certain produce to be cultivated and available all the year round such as:
Apples, eggplant, avocados, bananas, beetroot, broccoli, cabbages, carrots, cauliflower, celeriac, celery, coconut, cucumber, eggplant, endives, ginger, leeks, lemons, lettuce, mushrooms, onions, parsnips, peppers, potatoes, sweet potatoes, tomatoes, zucchini.
You may also like …