Located in Westbourne Grove, an area dense with restaurants, Banana Tree is normally busy for dinner on the weekend, so we booked earlier in the day. Serving a selection of dishes from the Indochina region, they offer a varied menu, with quite a few vegetarian options.
We were a large group so we sampled a good selection from the menu:
Laksa (Malyasian coconut curry soup) with prawns was rich and creamy with a slightly spicy and sweet coconut base, bean curd puffs, bean sprouts and noodles.
10 skewers of Chicken Satay: the chicken was dry but the satay sauce was quite good . It came with cold, sticky rice, cooked in palm leaves.
Vegetarian Spring Rolls: These are served with crunchy Batavia lettuce which you wrap around the spring roll, adding some of the pickled daikon radish and carrot, and then dip into the sweet Nuoc Cham sauce. I am not too fond of fried food so I prefer to just dip the lettuce in the Nuoc Cham.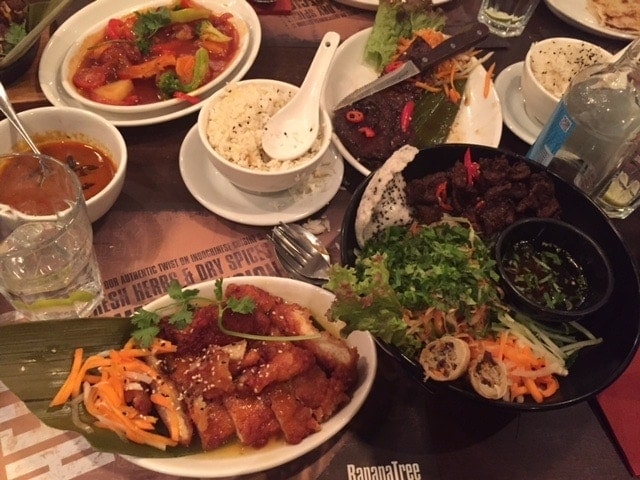 The mains:
Sweet and Sour Crispy Chicken: there wasn't much chicken in this dish so I didn't manage to try any but the sauce was quite sweet.
Crispy Chicken with Mango and Sweet Lime sauce: the chicken schnitzel was popular but became slightly soggy in the sweet sauce. It came with Viet pickle on the side.
Legendary Rendang: the menu claims this is cooked for 4 hours. While the sauce is rich and full of flavours, the meat is a bit dry.
Bun Bo Meaty: this Vietnamese salad bowl with noodles came with slices of sweet and chilli beef steak. The meat was tender but a few pieces were slightly chewy. The fresh herbs, and salad added a good crunch, a couple of vegetable spring rolls, some rice crackers, and more sweet Nuoc Cham sauce. This is a meal in a bowl.
The restaurant was busy so service was very slow. We could see some of our food on the counter in the kitchen waiting for waiter service for quite a while before it was brought out, and had to remind the waiter about the extra bottles of water and drinks we ordered which were ready at the bar.
While there are better Malaysian, Vietnamese, Thai, etc., restaurants around London, at Banana Tree you can try something from each of these cuisines. Overall the food is quite salty and sweet.
They have Express Lunch set meals on weekdays at slightly over £10 for two courses, the rest of the menu is also fairly reasonably priced at around £10 for a main course.
21-23 Westbourne Grove, Bayswater, London W2 4UA
Tel: 020 7221 4085
Opening Hours
Monday – Saturday 12:00pm – 23:00
Sunday 12:00pm – 22:30
Express Lunch 12pm – 5pm (weekdays only, and not bank holidays)