If you are searching for a good paella in London, try recently opened Picholine Restaurant, serving a takeaway menu and already busy with orders.
Sponsored post
Picholine Restaurant opened just a few weeks ago, serving a takeaway menu, and it is already busy with orders.
Jake Hodges, chef and previous owner of Cigala has teamed up with Clayton Felizari, former head chef of Cigala and now owner of Picholine, to bring us their popular paellas.
Jake has 34 years experience working at top restaurants, such as Sonny's in Barnes, the iconic 192 in Notting Hill, the River Café and then at The Eagle. He was one of the co-founders of Moro in Exmouth Market in 1997 and later opened Cigala in Lamb's Conduit Street, Bloomsbury.
With a love for Spanish food and culture and having spent many years living and travelling round Spain, Jake's speciality is authentic Spanish cuisine. He sources the finest ingredients to recreate the true flavour of regional dishes, while his style of restaurant is basic and functional.
Spain has always been a passion for me, its culture, history, food and architecture. I imported products for my restaurant, Bomba rice before it was available here, a beautiful olive oil from Valencia, embutidos, cheeses, saffron, dried peppers etc… Jake Hodges
Clayton worked with Jake for 12 years at Cigala till it closed, and opened Picholine in the neighbourhood of Finsbury Park, bringing a taste of Spanish cuisine to the area.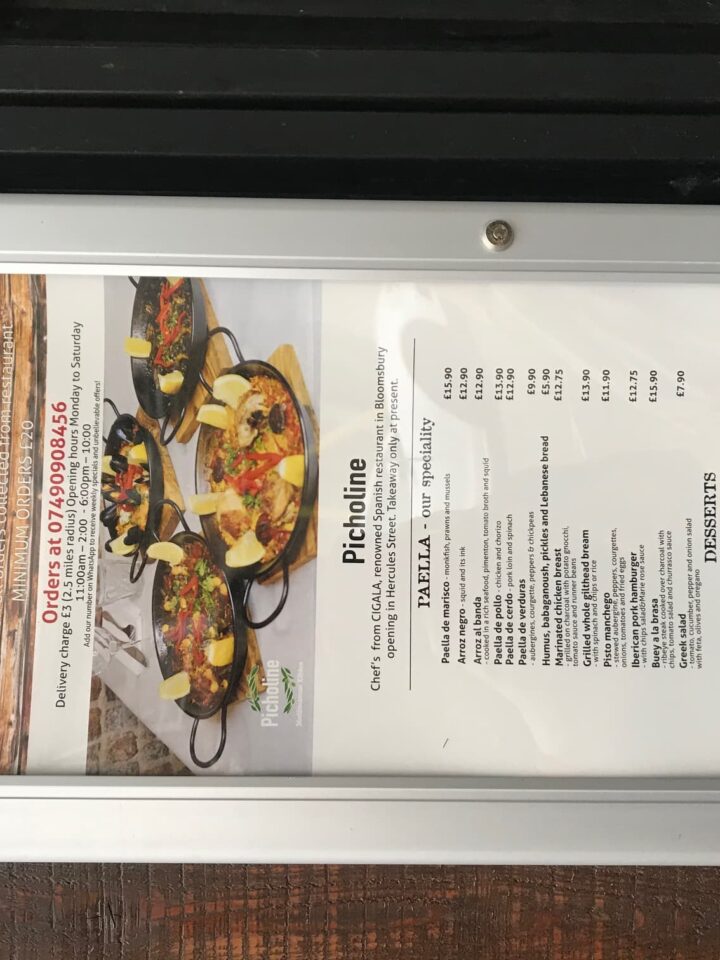 At Cigala, their rice dishes were so popular, they have made them central to the Picholine menu. There are three with seafood, two with meat and one vegetarian. Starters, mezze and tapas will be added when the restaurant opens fully, with more Mediterranean dishes from Italy, Lebanon and Turkey.
Their philosophy is simple food, cooked well, and all dishes are cooked from scratch on the premises.
We ordered a selection of some of Spain's most popular rice dishes to takeaway. Unpacking the boxes was a sensory delight of beautiful colours and delicious aromas. We tried:
Paella de marisco, a seafood paella made with monkfish, prawns and mussels, served with lemon wedges and a garlic aioli.
Arroz negro, with squid and squid ink, also served with aioli
Arroz al banda, in a rich seafood and tomato broth, squid, with pimenton
Paella de verduras, is vegetarian, made with aubergines, courgette, peppers and chickpeas.
They were made using Bomba rice, a short grain rice grown in Spain with lower starch content, most popular for paella due to its ability to remain firm while absorbing three times its volume of liquid. The rice was perfectly done, soft on the outside and slightly firm on the inside, with a good bite and not at all sticky.
All the rice dishes were perfectly seasoned with saffron and sweet pepper, and came with a garnish of parsley, long pimento strips and a wedge of lemon. The vegetarian paella was surprisingly tasty while the seafood dishes were beautifully flavoured with a rich fish stock. Our favourites were the Paella de marisco with a very generous serving of delicious mussels, and the Arroz al banda.
I imagine once restaurants are allowed to open fully, Picholine will be very popular. I look forward to returning with friends and trying more items on the menu!
I was invited to try the takeaway menu at Picholine Restaurant, all opinions are my own.
---
Picholine Restaurant
11 Hercules St, London N7 6AT
Orders: 07490 908 456
Delivery charge £3
Monday – Saturday
11:00 – 2:00 and 6:00pm – 10:00pm