Serving traditional Indian dishes for the modern palette in a grand and luxurious setting in London's West End.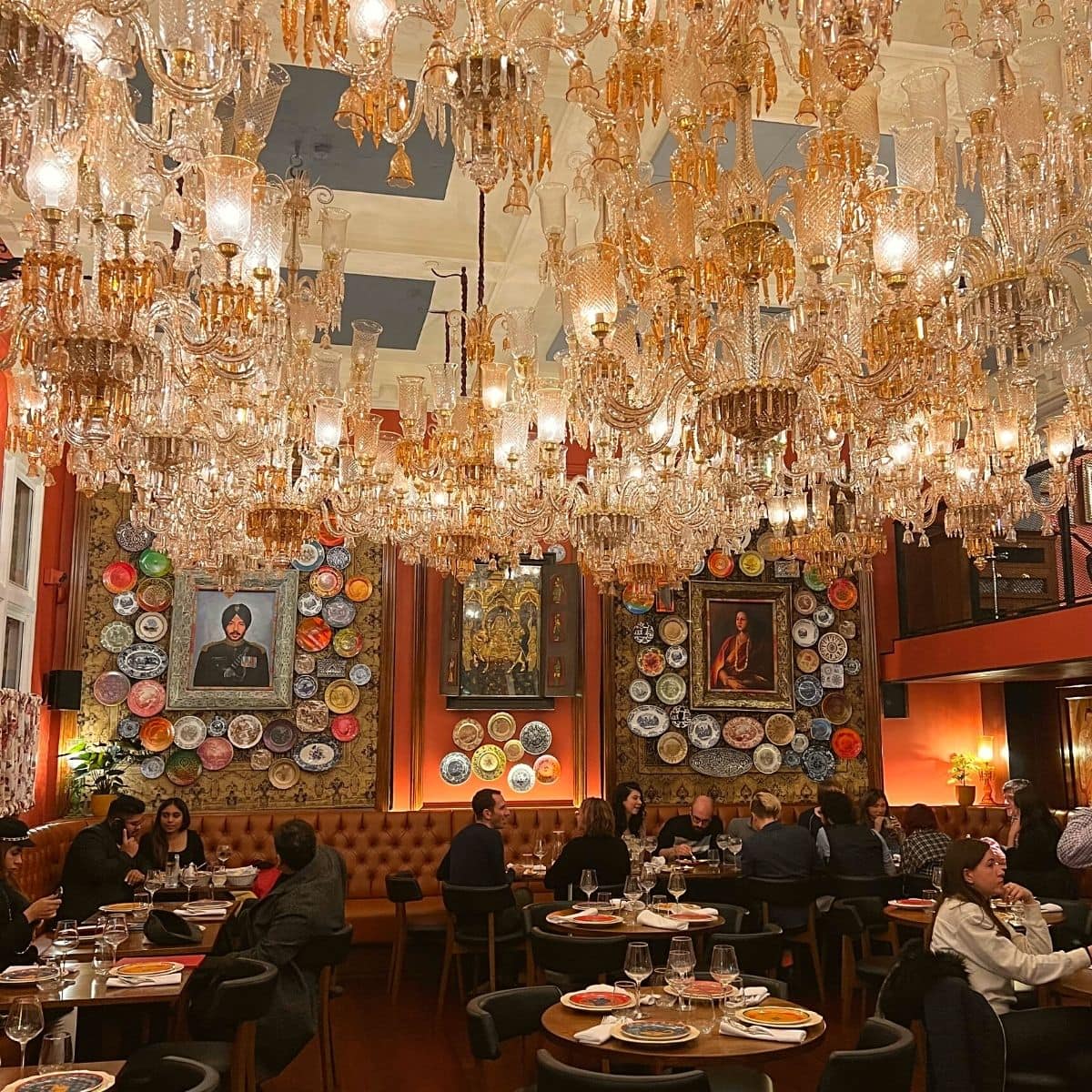 We were invited to the recently opened Colonel Saab restaurant in Holborn not far from London's West End theatreland, brainchild of award winning entrepreneur, Roop Partap Choudhary of the luxury Noor Mahal Palace Hotel.
This is Roop's first venture into the hospitality sector in the UK and promises to be a truly unique dining experience with traditional dishes reflecting India's diverse cuisine, served in a luxurious setting surrounded by priceless Indian artefacts.
Colonel Saab occupies the ground floor of the elegant old library of former Holborn town Hall, located between Covent Garden and Bloomsbury.
The restaurant is a homage to his father Manbeer, or Colonel Saab as he is known from his days in the army, and his mother Binny.
The dining rooms and bar were designed and decorated by Roop and Binny in the style of Indian grand stately homes. They are opulent yet inviting, showcasing the family's heritage from India, Iran, and Colonel Saab's years in the army while he was posted to different parts of India.
Spice coloured walls are adorned with Persian rugs, interesting postcards from the time of Partition, exquisite Indian antiques and old family photos. The eye is drawn immediately to the framed portraits of Colonel Saab and Binny surrounded by a collection of ceramics from Binny's travels, and a few dozen rose tinted chandeliers hang from the ceiling like jewels. It is a visual delight with items of interest from every angle.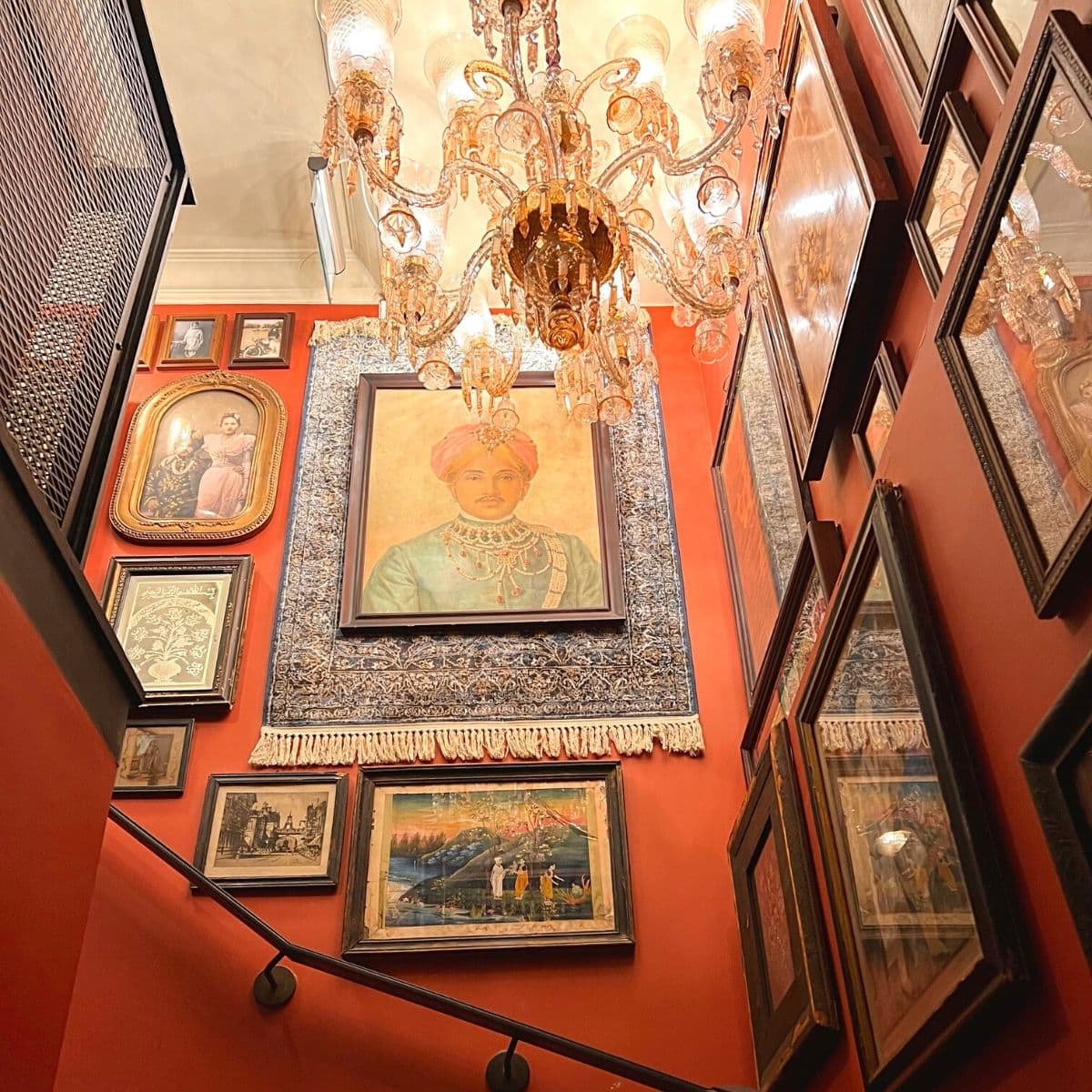 There is a less formal yet beautifully designed dining area on the mezzanine level and two private dining rooms available on request.
Karen Anand, food author and restaurant consultant, created the menu with a collection of dishes showcasing the best of true Indian regional cuisine, while the bar serves cocktails and mocktails mixed with Indian flavours and spices.
Roop is a most affable person and his manager Atul, and staff were very welcoming and friendly. Atul brought over our drinks, I'm not entirely sure what they were called except to say they were spicy, tangy and quite refreshing.
For starters we ordered the Jaipur baby aloo which were baby potatoes marinated twice in spices and cooked three times (boiled, fried then fried again). They were deliciously soft and creamy with a crispy exterior, served with a delicious cooling dip.
The paneer tikka Bengali style was one of the most memorable dishes of the evening. Three slices of paneer were marinated then cooked in panch puran, a popular Bengali mix of five spices, served alongside a tangy spicy tomato chutney.
We loved the flavours of the Sunday lamb with tamarind and tea, slow-cooked boneless pieces of lamb in a creamy tangy sauce. This was definitely another highlight of the meal.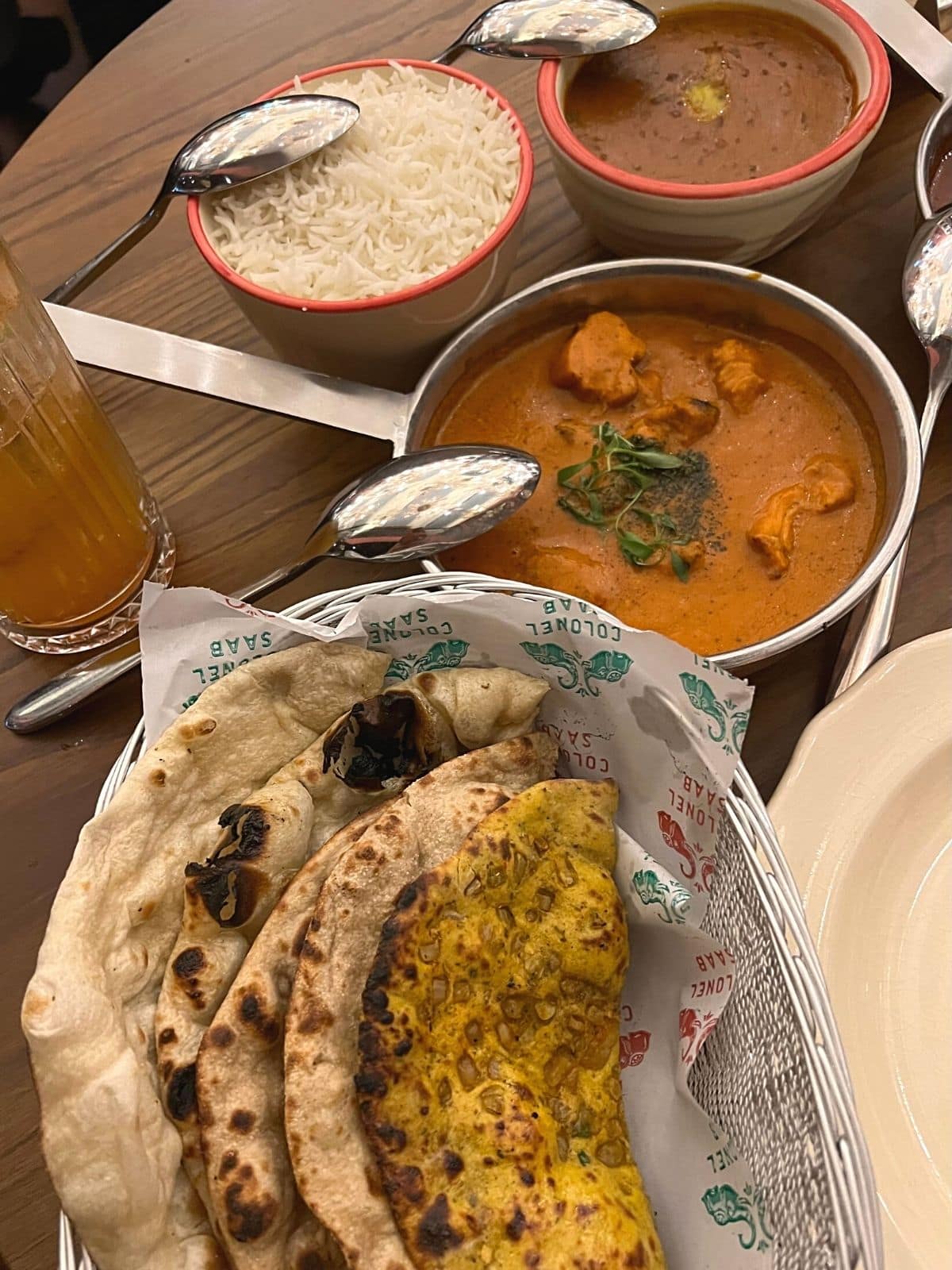 The ubiquitous dal makhani features on menus of most popular Indian restaurants and Colonel Saab's version certainly did not disappoint. Slow cooked whole black lentils in a rich and very buttery sauce was deliciously thick and creamy with that essential smoked flavour.
Butter chicken was good but by then we had too many dishes in sauces and it did not really stand out over the others.
The mains were accompanied by a serving of fluffy basmati rice and a bread basket consisting of a very moreish missi roti made from chickpea flour and spices, tandoori roti and naan.
Atul brought some crispy fried kale in a spiced batter to try, it was absolutely delicious and should be appearing on the menu in the near future, if it hasn't, do ask about it.
For dessert we had a rich and creamy rasmalai milk cake and freshly made gulab jamun with a scoop of ice cream followed by masala tea.
Head chef Sohan Bhandari's signature rasmalai milk cake was a slice of sponge cake covered in a layer of cardamon cream, topped with small ladoo pieces and served in a dish of rasmalai milk sauce. It was rich, thick and creamy, and a wonderful way to finish the meal.
The restaurant is open for all day dining and we hope to return very soon to try their dosas and tiffin boxes for lunch.
Colonel Saab
Holborn Town Hall,
193-197 High Holborn,
London, WC1V 7BD
Contact: 020 8016 6800
[email protected]
Opening times:
Monday to Saturday
Bar: 12noon — 12:30am
Lunch: 12noon — 3pm
Dinner: 6pm — 10.30pm