Vivek Singh's modern and elegant restaurant by Battersea Power Station, serves delicious modern Indian food.
Sponsored post.
Cinnamon Kitchen, part of the Cinnamon group of restaurants, is Chef Vivek Singh's sixth and latest restaurant.
It is in Circus West Village, along the Thames riverside on the south bank, between Battersea Power Station and Battersea Park. As part of the huge ongoing redevelopment of Battersea Power Station and its surroundings, the area has a wonderful vibe with many restaurants, cafés and fabulous views of London.
Cinnamon Kitchen is located under one of the arches of the main tube line out of Victoria. The restaurant's utilitarian design with its bare brick walls and uninterrupted space pays homage to the railways, and preserves the history and charm of the area (read more below*). The constant dull rumbling of trains as they pass overhead add to the charm, as if you are having a bite to eat while waiting for your train.
The concept behind the restaurant is 'Modern Indian cuisine, with British influences, using innovative techniques'. There is a selection of small plates, a tasting menu, express lunches and all day dining.
Cocktails are the creation of world famous mixologist Tony Conigliaro, inspired by themes of fire, ice and spice. Colours are vibrant, and with ingredients such as black cardamom, curry leaves and fenugreek, they are designed to take you on a 'journey through the senses'.
The bar menu reflects the restaurant's railway theme in offering Indian regional dishes from the main cities along the train journey from Mumbai to Jaipur.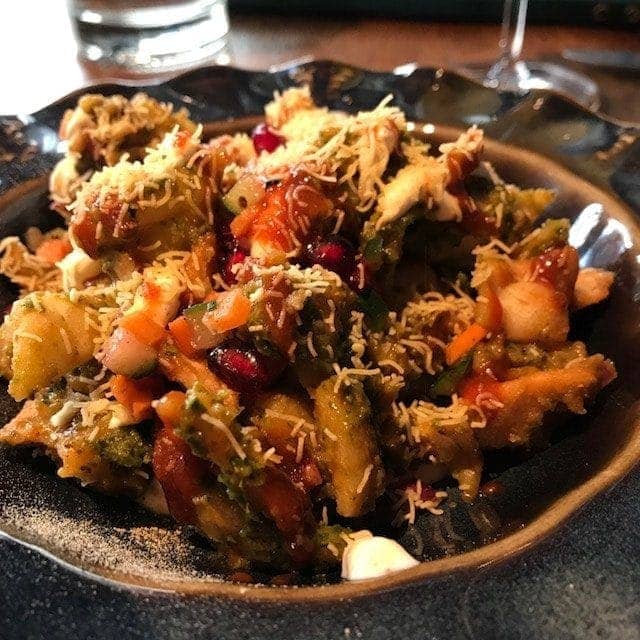 We ordered the Surat Junction Bhel Puri from the bar menu. This Gujarati dish, is made with small fried puffed wheat, similar to samosa pastry (known as namak para), chickpea vermicelli (sev), potatoes, pomegranate, tamarind and yogurt. This is a tasty mixture of sweet, salty, tart and spicy ingredients with interesting and contrasting textures.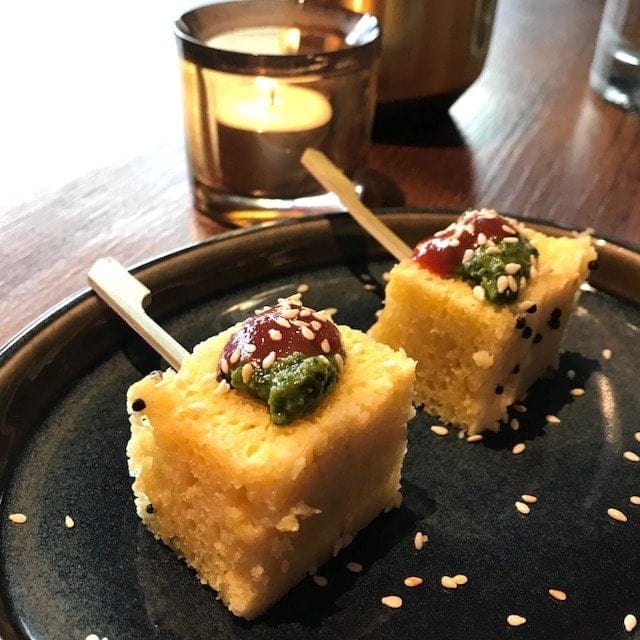 There was an amuse bouche of Gujarati steamed chickpea cake, Dhokla. Served on small skewers and garnished with a tamarind and a coriander chutney, I enjoyed this very much and it was a wonderful opener.
The starter, Tandoori Chicken Breast Tikka was tender and beautifully spiced with a perfect kick of chilli. It was served with a coriander chutney, and onions chopped and combined with yogurt (sadly there was a tiny amount of each sauce).
The Pink Aubergine from the grilled section, was tender slices of aubergine covered in a crunchy coating of crushed peanuts, and sesame seeds, alongside a tamarind sauce. We were curious about this dish but unfortunately we didn't love it.
For mains, we shared the Clove Smoked Lamb Rump, the Lucknow Style Chicken Biryani and the Black lentil dal with plain and garlic naan. All the dishes were deliciously fragrant.
The lamb, served sliced, was extremely tender and lightly spiced with a wonderful delicate flavour. It came with a rich fennel and nutmeg sauce, served with a portion of slightly tart fresh greens, some saffron rice and a most delicious lamb mince (keema).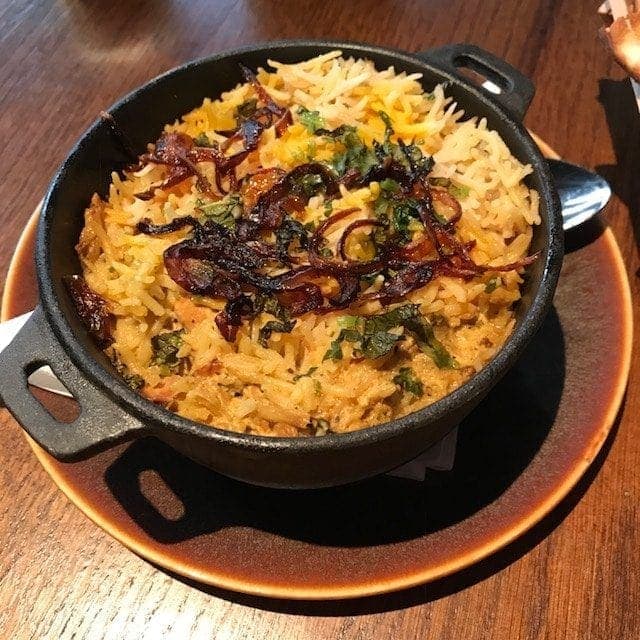 The chicken biryani was subtly spiced with large pieces of chicken which were so moist and tender, they almost melt in the mouth.
The 24 hour simmered Black Lentils was rich, creamy and flavoursome and complemented the other dishes very well. It is one of my favourite daals!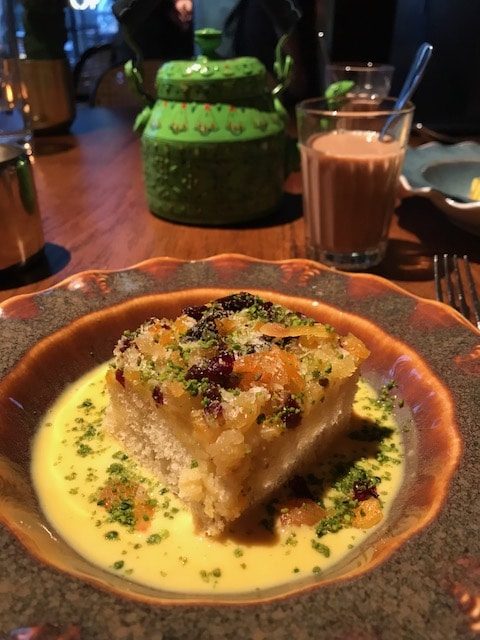 For dessert we shared the Double ka Meetha, and the Lassi Panna Cotta. The Double ka Meetha was a spiced bread and butter pudding with a custard-like rasmalai sauce. The delicately spiced sweet bread was light with a delicious rich and creamy cardamom flavoured sauce.
The Lassi panna cotta with mango mint salad was light, creamy and refreshing. It came with fresh mangos and mango puree, dehydrated raspberries and an edible flower.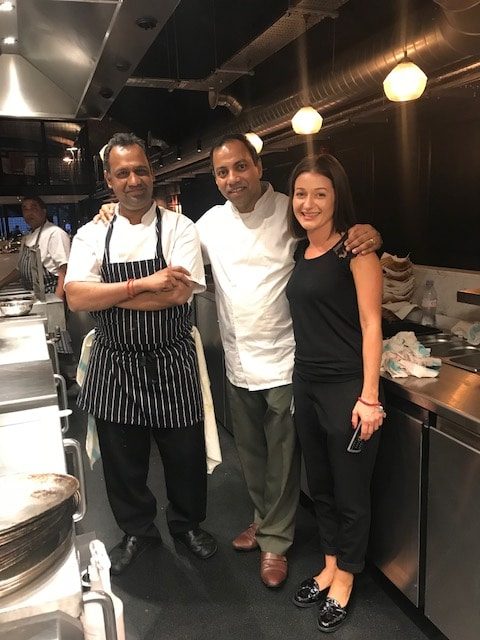 In the kitchen, Chef Ramachandran Raju, formerly head chef at the original Cinnamon Kitchen in the City, and Chef Rakesh Nair, formerly head chef of the Cinnamon Club. They have been working with the Cinnamon Group of restaurants for the last 20 years and are setting the same high standards in Battersea. Waitress Alex is chatty and friendly and very knowledgable about the restaurant and the menu. Manager Harsh Joshi (not pictured) was also very welcoming.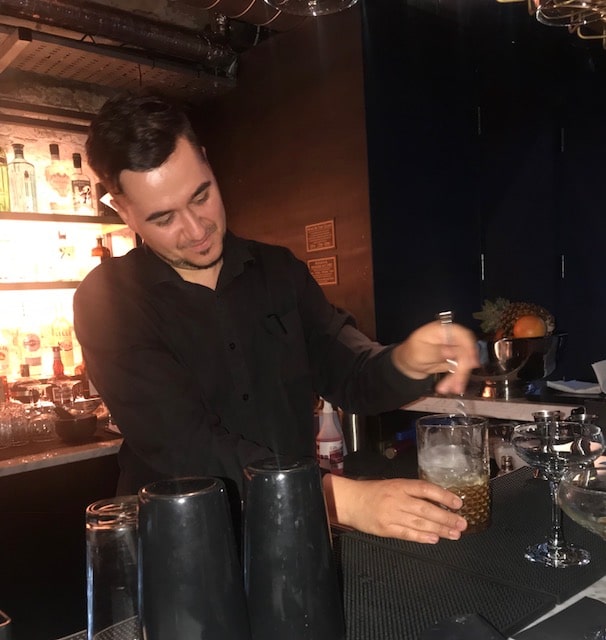 Bartender, Vlad Iftime prepares cocktails from Tony Conigliaro's creations for Vivek Singh.
The mezzanine level is supported by a large metal cage-like structure. Accessible by stairs, it has a private air-conditioned dining area for up to 20 guests.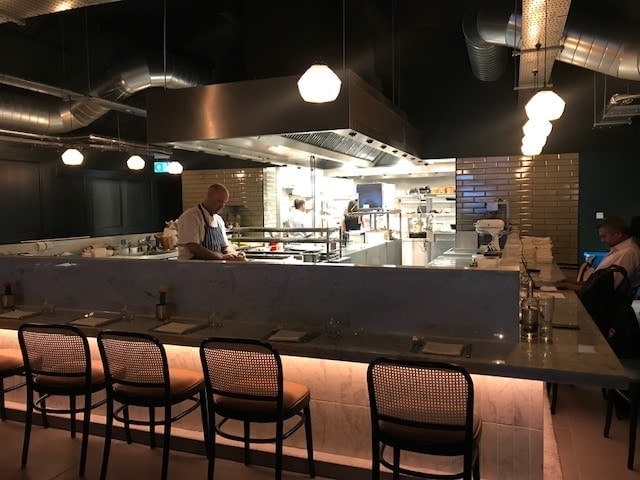 An open plan kitchen at the back of the restaurant with seating for individuals/couples.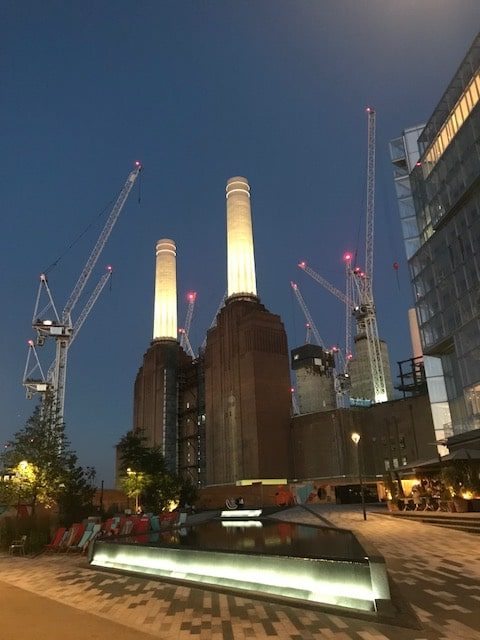 *Coal powered Battersea Power Station built in 1930's, was eventually decommissioned in 1983. It was built in the cathedral style fairly typical of its time, however, this is the most iconic building to survive. It remains one of the largest brick buildings in the world. With its unmistakable 4 tall white chimneys, it is now part of the huge regeneration project extending to Battersea Park for flats, restaurants, shops.
Cinnamon Kitchen Battersea


4 Arches Lane
London
SW11 8AB

Tel: 02039555480

Opening Hours:

Monday to Sunday
11.30am to 11.00pm