Serving chef Gennaro Esposito's classic south Italian dishes with a modern take, using fine dining techniques.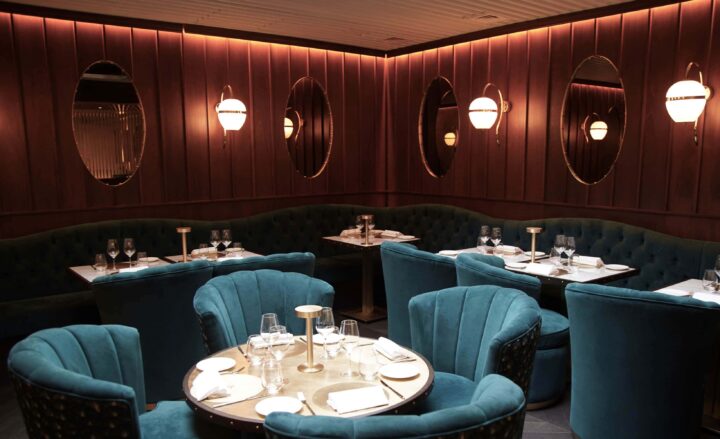 IT London opened its doors in November 2019, after the first IT restaurant opened in Ibiza in 2015, and the second in Milano early last year.
Founder Alessio Matrone describes his vision for the London restaurant as having "given the city a totally different experience where fine Mediterranean cuisine meets the Balearic beat of Ibiza".
The restaurant is located in the heart of Mayfair, in a former Dover Street gallery. As you enter, there is a DJ mixing beats, then the main dining hall with a part open plan kitchen.
I was invited with a group of bloggers to try their new seasonal menu launched this month. We sat in the elegant adjoining private room with a large skylight.
The dishes are designed by two star Michelin chef Gennaro Esposito of La Torre del Saracino, near Sorrento, and the head chef is Adriano Rausa who has come over from IT Milano.
Esposito is known for modernising classic south Italian dishes using fine dining techniques. He also values the importance of good quality seasonal produce, and the dishes at IT London reflect this.
Our multi-course meal started with a vegan take on tartare. The Tartare di zucchine made with finely diced zucchini, almond and basil, was tasty, light and refreshing.
As a fan of thin crust pizza, I thought the IT signature Margherita Pizza was delicious. It was paper thin, with an excellent tomato sauce and cheese.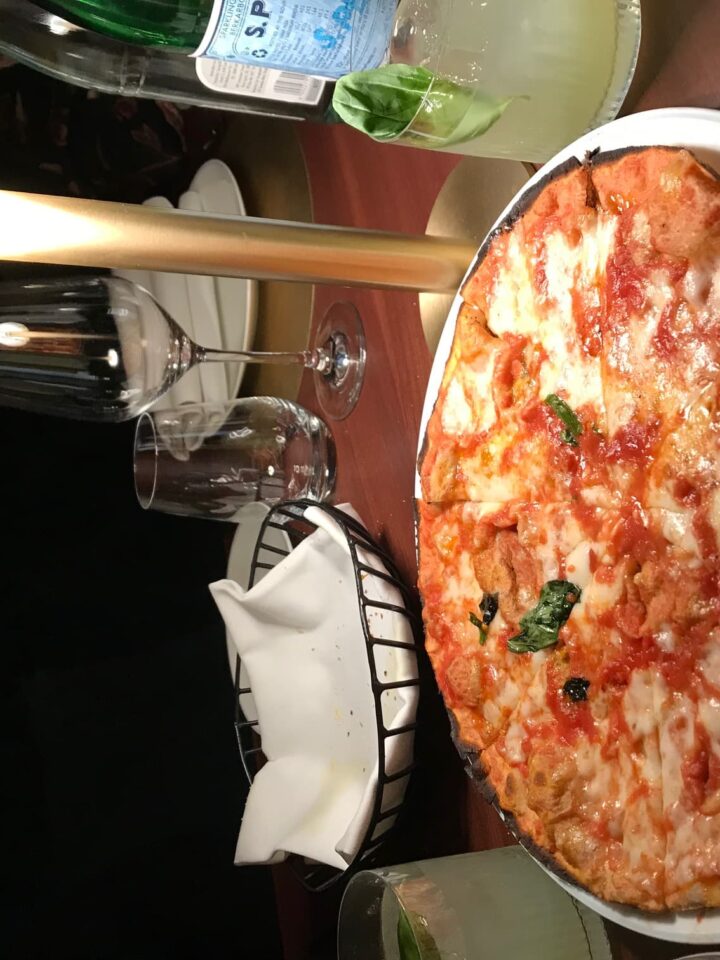 The Granchio, carciofi e avocado, a king crab salad, artichoke and avocado, was a wonderful combination of fresh flavours, and my favourite dish of the evening.
The next antipasto was Alici a beccafico, made with gratinated anchovies, an orange sauce, pine nuts and raisins. This combination is a southern Italian favourite. It was made with Italian anchovies which are plump, full of flavour, and among the best in the world.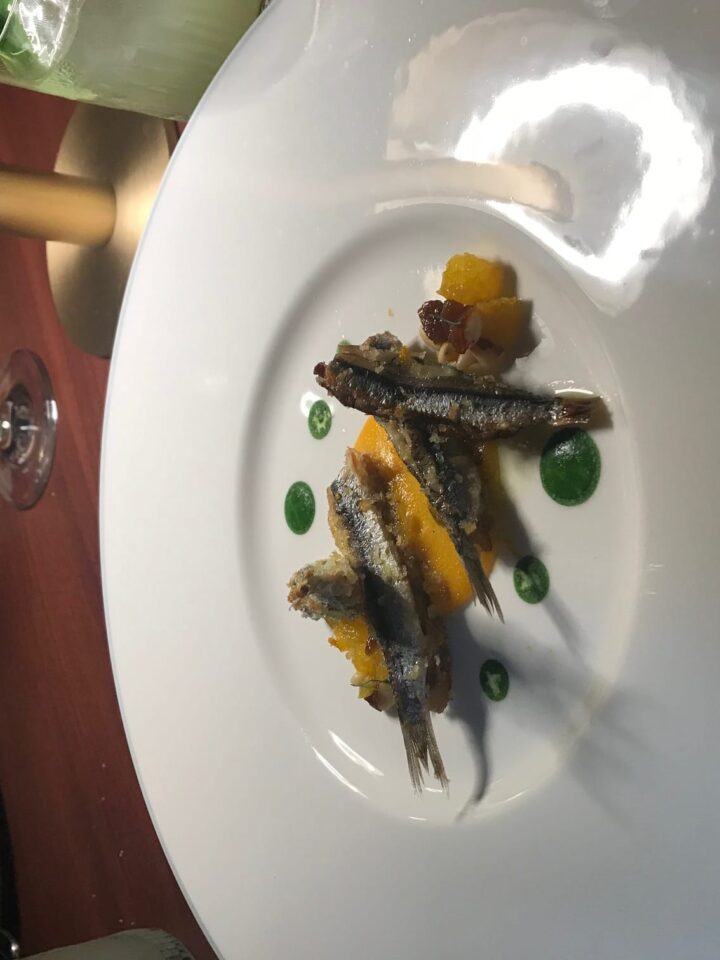 After the antipasti, we had the Ravioli capresi, a ravioli, ricotta, pecorino cheese with tomato sauce. The pasta was perfectly cooked with a creamy lemon flavoured ricotta and a tangy tomato sauce. Esposito is known to use fragrant Amalfi lemons in many of his dishes.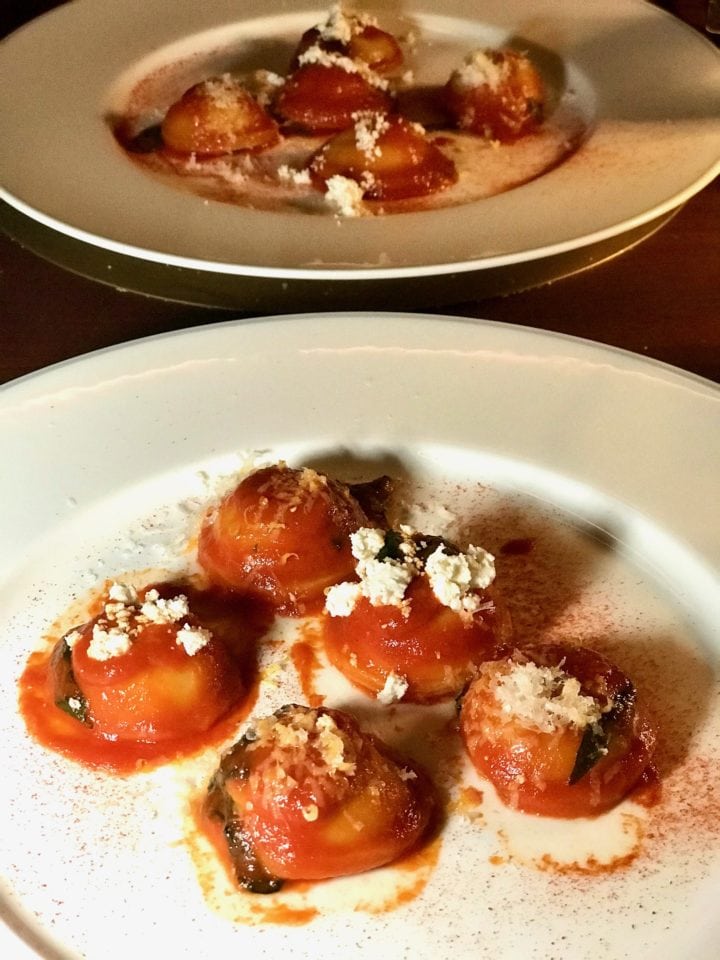 The main course was Carrè di agnello alla brace, crema di tarallo, cime di rapa e salsa di aglio dolce. This was a charcoal rack of lamb with tarallo cream, turnip greens and garlic sauce. While the lamb was succulent and very tender, I wasn't terribly keen on the strong smoked flavour of the seared sides.
To finish, we had the Morbido alle noci, lime e gelato all'olio di oliva, which was walnut biscotti, lime, with a scoop of olive oil ice cream. The cream on top had a little too much olive oil, for me but otherwise a lovely ending to a delightful meal.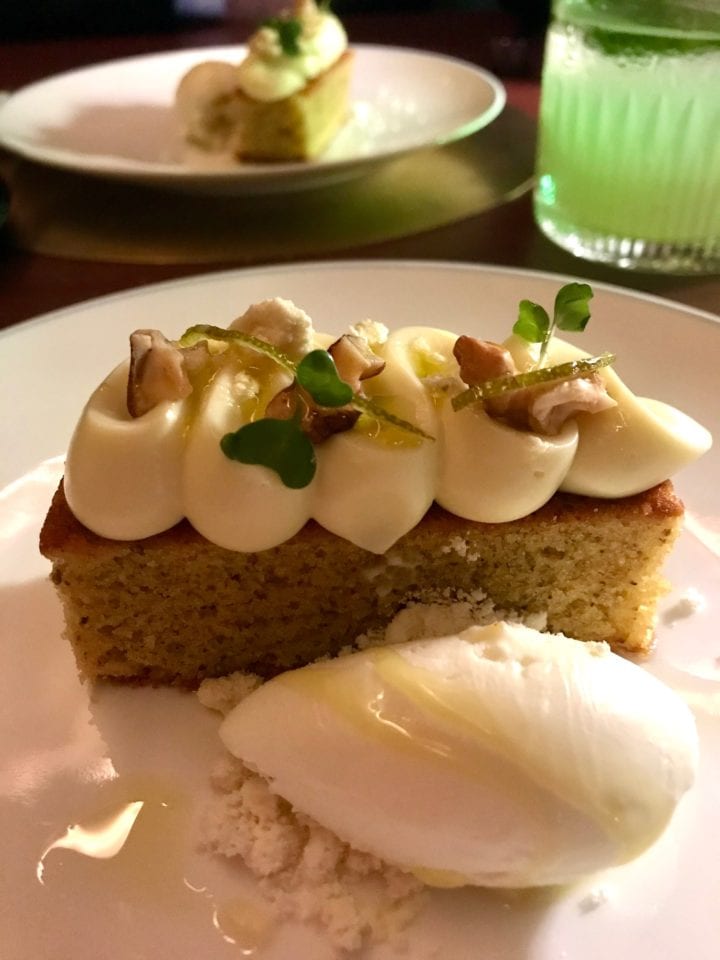 More Central London restaurant reviews
Disclaimer: I was invited to review the restaurant, all views and opinions are my own.
IT London
28-29 Dover Street, Mayfair, London, W1S 4LX
Tel: 020 3887 4360
Opening hours
Monday – Thursday 12 pm – 12 am
Friday – Saturday 12pm – 1 am
Sunday 12pm – 12am