Serving delicious traditional home-made Middle Eastern dishes, and possibly the best Maqluba in town!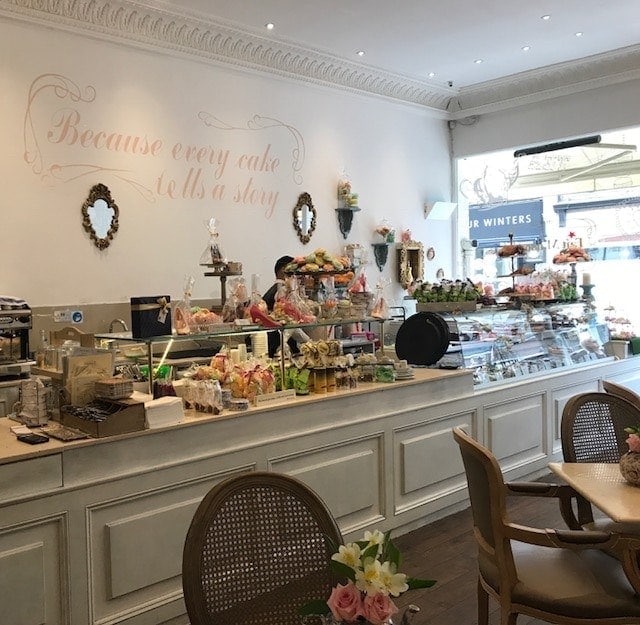 Sponsored post.
I was invited by Fait Maison Salon de Thé to try their lunch menu.
The restaurant with high ceilings and a bright interior, is decorated in soft pastels and neutral colours. There is a pretty display of chocolates and colourful meringues to purchase, and a huge choice of beautifully decorated pastries and cakes, including gluten-free.
The cuisine is International dishes, but mainly Middle Eastern, serving an all day breakfast menu (continental and Middle Eastern), lunch, a dainty high tea and dinner.
Om Waleed, the creative director, is a lovely friendly lady of Palestinian origin, and often prepares many of the dishes herself. She sources organic and seasonal produce with the understanding that delicious food comes from good quality ingredients.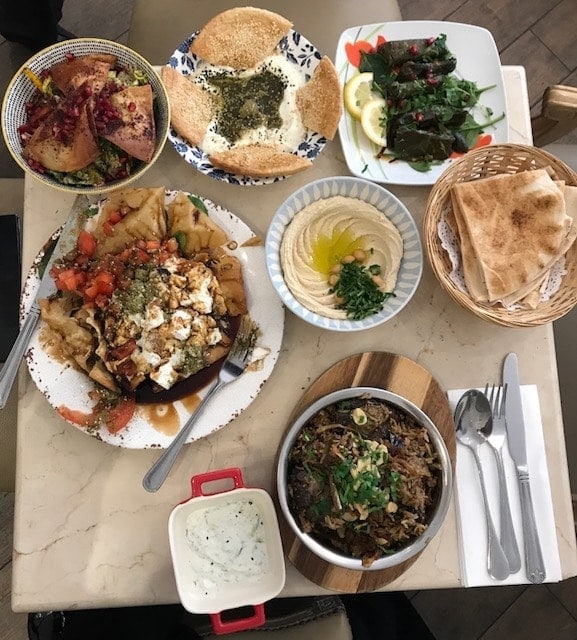 I tried a variety of small plates, a large salad and main course.
Arabic salad – a textured salad made up of crunchy ingredients: fresh baby lettuce, deep-fried pitta, sprinkled with sumac and topped with pomegranate. Sumac is a fruit ground to a powder, usually sprinkled on salads, meat, rice….and really on most dishes. A refreshing salad with a tart lemony taste.
Labna drizzled with olive oil and za'atar, and warm sesame pitta on the side for dipping.
Labna is a soft creamy and slightly tart cheese, which is made from strained yogurt. In the Levant, it is usually served mixed with herbs and shaped into balls, as a dip or spread on bread for breakfast.
As a dip, it is available on their all-day breakfast menu, served with Za'atar – a blend of dried herbs (thyme, oregano, sumac and marjoram), which has an aromatic and tangy flavour.
The combination of the flavours, the smooth cheese and warm bread made this one of my favourite dishes!
Apparently this Middle Eastern Mix (also from the breakfast menu) is one of their most instagramed dishes – it is a salad of chopped tomatoes, feta cheese and za'atar in a pastry shell. Brought to the table, it is then served with a liberal pouring of Turkish pomegranate sauce before it is cut into 4 pieces.
Warak enab – grape vine leaves filled with a lightly spiced rice. It makes all the difference when the vine leaves are fresh, and these were delicate and quite wonderful!
The hummus was silky smooth with a drizzle of good quality olive oil.
The main course, Maqluba, is a popular Levant dish and the Palestinian version is possibly the best. Made with soft, slow-cooked lamb, rice and fried vegetables, it is cooked together in a pot before being turned upside down to serve ('maqluba' means upside down in Arabic).
This was the star dish for me! I have tried the maqluba at other restaurants in London, but this is so far the best. Prepared with good quality lamb, it was incredibly tasty with wonderfully spiced rice and melt in the mouth lamb – the flavours came together beautifully. Garnished with sliced almonds and parsley, it arrived with a portion of yogurt mixed with finely chopped cucumber. I shall definitely be returning for this!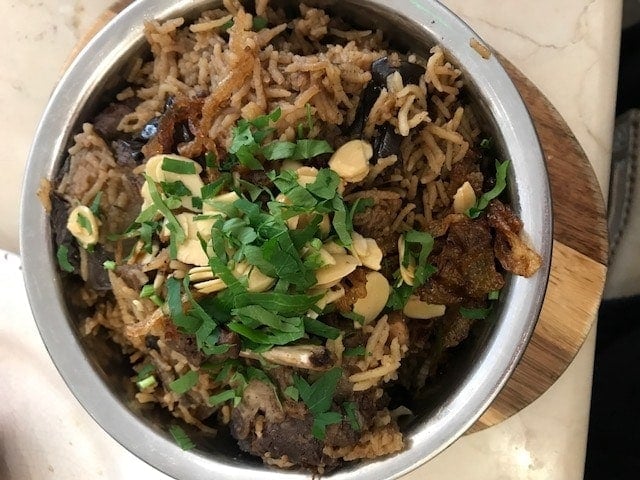 The counter showcases a huge variety of chocolates, meringues, dates, cakes, pastries and other wonderful desserts.
To finish, I had a light and guilt-free flourless chocolate cake, and a latte.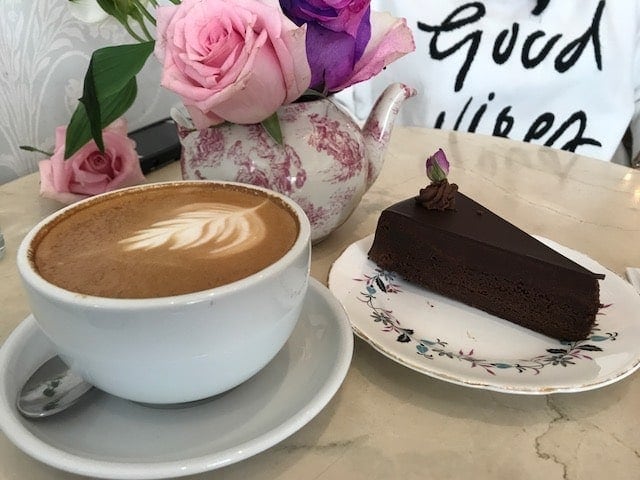 There is a small room to the back which can be screened off, for private functions such as birthday parties, baby showers, etc.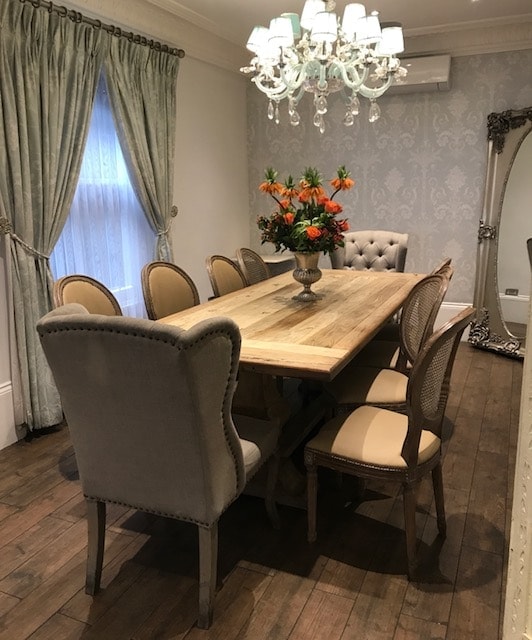 I enjoyed all the dishes and shall definitely return for the maqluba, labna and warak enab. Also, their Middle Eastern breakfast (for the karak and shakshouka), and high tea!
Booking is advised for high tea.
Fait Maison, Salon de thé is part of the Fait Maison group of restaurants. There are 2 on Gloucester Road, Kensington. I was invited to 144 Gloucester Road – this particular branch opened around 3 years ago.
Fait Maison Salon de thé
144 Gloucester Road, London SW7 4SZ
0203 490 5585