I was recently invited to a wonderful evening in Hoxton, London, with Belvoir Fruit Farms, to try their Food and Drink Pairing menu with dishes prepared by the Disappearing Dining Club.
Belvoir's charming owner and MD Pev Manners, explained that as more and more people are choosing not to drink alcohol (according to the Office for National Statistics, 1 in 5 of us in the UK is now teetotal), more people are turning to grown-up soft drinks.
With this in mind, dishes were prepared using Belvoir cordials and pressés to enhance the flavours.
I tried the Battered Cod, served with matchstick fries and a pea puree. Belvoir's Ginger beer was used to emulate a traditional beer batter, which worked rather well, providing a lovely crisp, light coating. The pea puree incorporated the fresh notes of an Organic Lemon & Mint Cordial. This was served with a Cucumber & Mint pressé, made with juice from freshly pressed English cucumbers. Served chilled, it had a wonderful clean and crisp flavour and was quite refreshing!
For dessert there was a deliciously thick and creamy Swedish Custard & Poached Rhubarb, made with Belvoir's Rhubarb & Apple pressé. This was nicely balanced with bitter quinine notes of the accompanying Botanical Juniper & Tonic.
Botanical Juniper & Tonic is a delicate infusion of botanical extracts, including juniper and elderflower. The sharp, bitter flavour of quinine makes this aromatic tonic drink a perfect non-alcoholic alternative to G&T. Just serve on ice, with a slice of lime!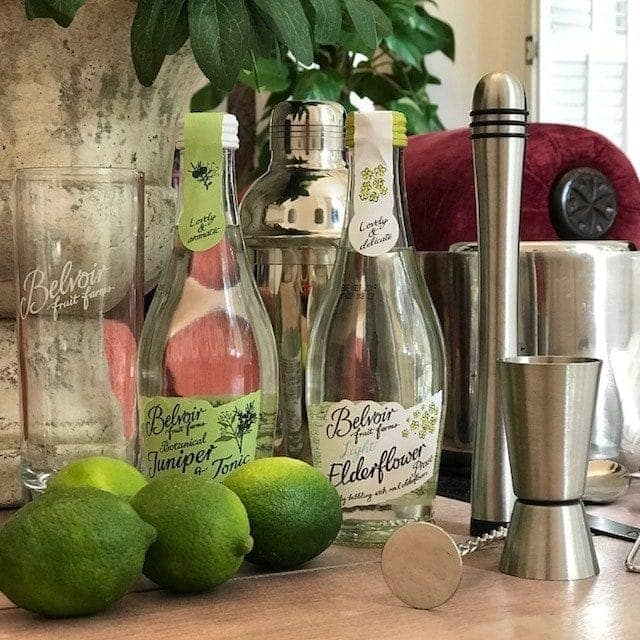 I was pleased to learn that all Belvoir drinks are made from freshly picked flowers, real pressed fruit juice, and freshly cooked spices. They do not contain any artificial flavourings, colourings, preservatives and thankfully, no artificial sweeteners!
Belvoir Fruit Farms sits nestled in the beautiful Vale of Belvoir (pronounced 'Beaver' locally), in the heart of the English countryside. The vale is one of England's most fertile agricultural areas.
Belvoir Fruit Farms started off as a family run 'pick your own' farm. One day, in the family kitchen, Lady Mary Manners started making homemade elderflower cordial by infusing blossoms picked from the wild elderflower trees growing on the farm. It became so popular with friends and family, that in 1984, they began selling it commercially.
Today, Belvoir still operates as a family run business, and the Elderflower cordial, their bestseller, is still made to the same original recipe. Locals are invited to help harvest the freshest, fully open flowers (and full with pollen), for a full floral taste.
In beautifully designed bottles, the company now produces 8 different cordials, 18 sparkling pressés (including 4 'light' pressés with 30% less sugar), and 3 non-alcoholic drinks called Wines Without the Hangover.
The non-alcoholic wines are made from natural fruit juices, with no added sugar, and are light and fruity without the acidity of wine. They mimic the notes of a Chardonnay, a Rosé and a Shiraz.
The Chardonnay is a blend of white grape juices, with peach juice and elderflower and jasmine extracts. It is pale yellow in colour and is sweet yet crisp. It's suggested pairing is with chicken, fish or cheese dishes. Serve chilled.
The Rosé is a blend of red and white grape juices, with raspberry juice and a touch of orange blossom, and jasmine extracts. It has a lovely gold-rose colour and has a clean, crisp taste. It makes a refreshing aperitif. Serve chilled.
The Shiraz mimics a full-bodied red wine. It has red grape juice, with elderberry and blackcurrant juices, a hint of black peppercorn, and vanilla extracts. This drink has a more 'grown-up' taste and is slightly astringent. Suggested pairing is with steak or red meats such as a boeuf bourguignon.
Created for non-drinkers or people after a healthier lifestyle, they are also perfect if you are driving home!
Having sampled many but not their full range, these were my favourite:
Ginger Beer pressé (chilled)
Cucumber & Mint pressé (chilled)
Organic Lemon & Mint cordial
Blueberry & Blackcurrant cordial – try their Blueberry & Blackcurrant Mule
Belvoir non-alcoholic Rosé Wine Without the Hangover (chilled)
Botanical Juniper & Tonic (a non-alcoholic alternative to a G&T), mixed with some extra Elderflower pressé (chilled)
I look forward to trying the various cordials to make granita!
Belvoir products are widely available in the UK, in major supermarkets and in good quality farm shops and delis. They are also available internationally in 28 countries.