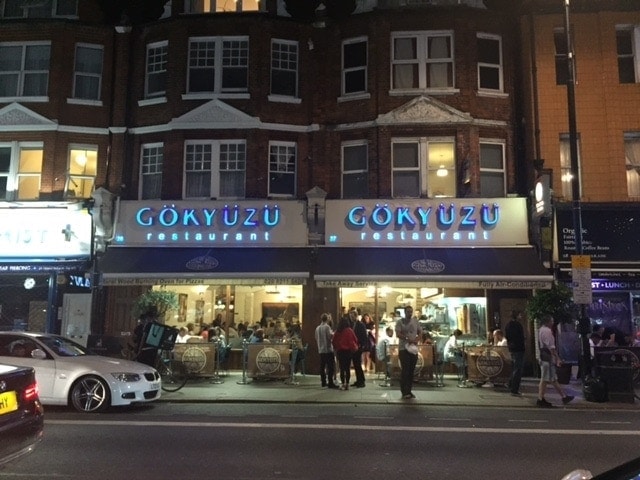 Gokyuzu opened in 1999 and has tripled in size since then. Set in the heart of 'little Turkey", amongst dozens of other busy Turkish restaurants, you can normally get a table if you are prepared to wait.
Well staffed, the service is swift and friendly. Once seated, freshly baked bread, a large mixed salad with pomegranate sauce and lemon juice, and a small bowl of yogurt, garlic and dill is brought to the table. The bread is thin and very good, the salad has that mixture of sour and sweet which complements the crunchy red cabbage and carrots very well. We ordered Ayran, the slightly salted blended yogurt drink which was very refreshing on such a warm evening.
We ordered the Small Mixed Meze & Full Platter for £36. Typically this is for 2-3 people to share, but we were hungry. The small meze consisted of: Kisir (Bulgar wheat, tomato sauce, herbs, mint, dill and spring onions), Haydari (the same yogurt they brought when we were seated), Saslu Patlican (fried aubergines with spiced tomato sauce) and Humus. We couldn't eat anymore of the yogurt, and the Kisir was average, but the aubergines were delicious and the humus was very smooth and excellent.
The main course consisted of: Lamb Shish, Chicken shish, Adana Kebab, 4 pieces of Lamb ribs, Chicken doner, Lamb doner, and 8 pieces of chicken wings. It was served on a bed of rice, bulgar and turkish bread. The meat was tender and I particularly enjoyed the ribs, the Adana kebab (made with minced lamb, tomato and pepper paste) and the chicken wings.
Gokyuzu only offer two desserts: baklava and sutlac. Not being terribly fond of baklava, I always get the Sutlac and some Turkish tea. Sutlac is a baked rice pudding with a hint of vanilla and served chilled, in a rather large bowl. A fantastic end to the meal.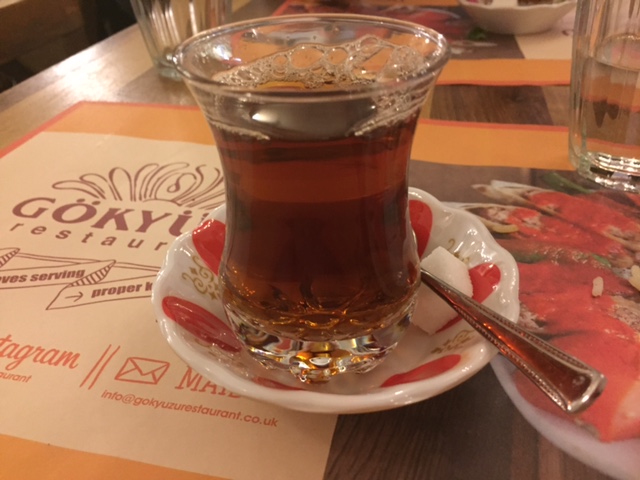 Prices are very low, ingredients very fresh and portions are extremely generous. There is also a good selection of vegetarian dishes. Wherever you are travelling from, this restaurant is always worth the trip.
26-27 Grand Parades, Green Lanes, London N4 1LG
Tel: 020 8211 8406
Opening Hours Monday – Sunday 8:00am – 1:00 am