Delhi street food and roomali rotis at Hankies Café, Shaftesbury Avenue.
On a Friday evening, having just had a terrible meal at a restaurant on Shaftesbury Avenue, we were still hungry. That's when I spotted Hankies café, Roomali Kitchen. I had to go in as I absolutely adore Roomali Rotis and the best place for them was the outdoor restaurant at Ashoka Hotel in New Delhi, many years ago.
Roomali rotis are extremely thin and supple and quite large. Served folded, they are named after the Indian word rumal – which means handkerchief. They are made with a mix of whole and white flours and only take a minute to cook on top on an inverted Indian cast iron tawa or kadai. They are served staright off the tawa and are traditionally eaten with tandoori food. Hankies describe them as:
'Handspun till its thin enough, cooked on a burning hot roomali tawa and folded into hankies'
I was intrigued by the blood-orange lassi, and it was quite delicious. Thick and smooth, with a mild flavour and nicely chilled, it was so good that I bought two bottles to take home. The kids loved it!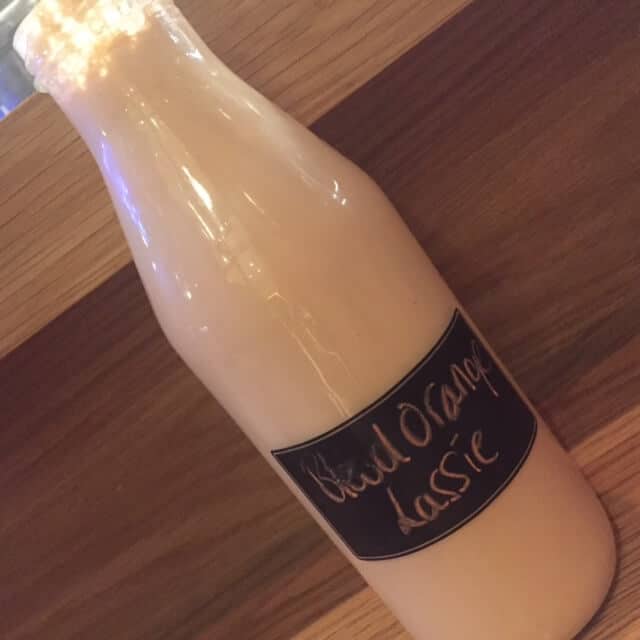 There is a complimentary portion of a lovely spicy vegetable dish containing the squash Lauki (calabash/bottle gourd) that is served with the rotis. The dal made from black lentils is a very popular dal in India and it is lovely to see it in restaurants here in London too. Hankies dal is creamy and buttery with a lovely flavour.
The garlic prawns with chives were tasty with a nice bite and better without the dip.
The Chicken Dhaba is a dry 'roadside curry' which works better than one with gravy as they do not serve rice here.
Do try the Dhai Puri with yogurt, three types of chutney and tamarind sauce – they are quite wonderful with cool yogurt, they are crunchy, tangy, sweet and spicy.
All portions are tiny, for example, the chilli lamb chop is a serving of one solitary lamb chop. The small servings are more reminiscent of a tapas bar. I suppose these are the kind of portions you would get if you were eating at a roadside foodstall in Delhi. This was fine for us as we had already eaten, albeit terribly, not long before. It is a great way to sample a variety of dishes and the few we tried were very good. I look forward to returning.
Hankies café
67 Shaftesbury Avenue Piccadilly
London, W1D 6EX
Tel: 0207 871 6021
Opening hours
Monday – Sunday 12:00 pm – 11:00 pm