About radishes and ideas on ways to eat them.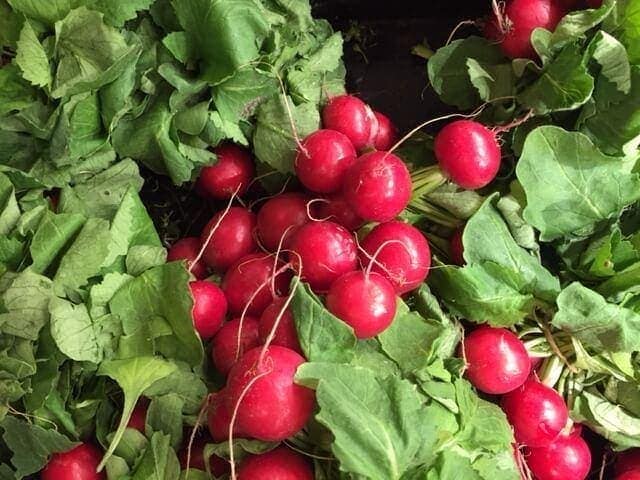 Inexpensive and easily available, radishes are an excellent snacking food as they have a high water content, are low in calories (½ cup of sliced radishes is only 10 calories), and have no fat.
In addition, they are an excellent source of antioxidants, vitamins , minerals, electrolytes and dietary fibre. High in vitamin C, they also contain potassium, magnesium, iron, vitamin B6 and folate, copper, zinc and calcium.
Radishes (Raphanus Sativus) are a popular root vegetable of the Brassicaceae family (also known as the mustards or cabbage family), which includes broccoli, cauliflower, cabbage and turnips. They are valued for the distinctive taste and crunchy texture.
We have two seasons of radishes based on when they are harvested – those harvested in spring or winter.
Spring radishes, which grow very quickly from seed (approximately 25 days), resulting in a smaller radish and these are generally eaten raw. They are usually the first plants of spring.
Winter radishes have a longer growing season and are larger, more elongated and have a sharper taste. These include the large white Daikon (commonly used in Japanese cuisine), and Horseradish.
Popular varieties
There are many types of radish, ranging from those that are large, small, long, round, spicy or mild. Some popular varieties of radishes are:
French breakfast – mild and super crunchy
White Icicle – pungent white
Cherry Belle – mild, small, round and red. The type most commonly available in supermarkets. They have a natural zing and a peppery bite and their clean, fresh flavour is refreshing for a perfect palate cleanser.
Watermelon – mildly sweet and slightly peppery with a white skin and watermelon coloured flesh
Green radish – sweet and mild with a green flesh
Black Spanish – black skin, white flesh with a peppery taste
Storing
They can be stored, wrapped in kitchen paper, in a fridge for a couple of days.
Remove the greens if storing in the fridge as the greens draw moisture from the root.
Radishes should be prepared just before they are used as they lose some flavour after slicing.
To increase the crispness, they can be soaked in iced water for a couple of hours.
Recipe ideas
Radishes can be used in a number of different ways. They pair well with: butter, eggs, apples, cheese, cucumbers, fish, coriander, and mint, creamy and rich foods.
They are great pickled, as a garnish, with a dip, blended into a juice, sliced, chopped, sautéed, grated, pickled or even baked. Some tasty ideas:
The crisp crunch makes it a perfect salad vegetable, with avocado, cucumber and a vinaigrette
Thinly sliced, on a slice of bread with plenty of butter, or cream cheese with sliced scallions
Sliced and soaked in lemon juice for a couple of hours, with salt, pepper and a few red chilli flakes
Sliced thinly in a sandwich with slices of roast beef
Sautéing radishes in olive oil, salt, parsley and lemon juice will bring out the sweetness and lessen the spice, just as baking at 425℉ /220℃ with rosemary or thyme for approximately 25-30 minutes.
Kimchi – pickled with cabbage, brine, ginger, garlic, sugar, chillies and shrimp sauce.

Radish greens are also edible and have a slightly peppery taste but they don't stay fresh for very long. Use them as you would other salad greens, or lightly sauté in butter, salt and pepper and add a squeeze of lemon juice. They are a great addition to any minestrone.
Radish seeds are also edible, and can be used as a crunchy, sharp addition to salads.
Fun facts
The Roman Apicius manuscript, De re coquinaria ('On the Subject of Cooking') of c.900AD, has a recipe for radishes with a pepper sauce.
The Spaniards introduced radishes to Mexico in the colonial period, where they became hugely popular as a side dish, or snack. The festival, Noche de Rábanos (Night of the Radishes) in Oaxaca, Mexico, started with religious motifs, such as scenes from the nativity, being carved into radishes for the Christmas market to promote the produce. Today the festival of radishes attracts thousands of visitors.
How do you like your radishes?