PF Chang's Asian Table opens in London's Covent Garden.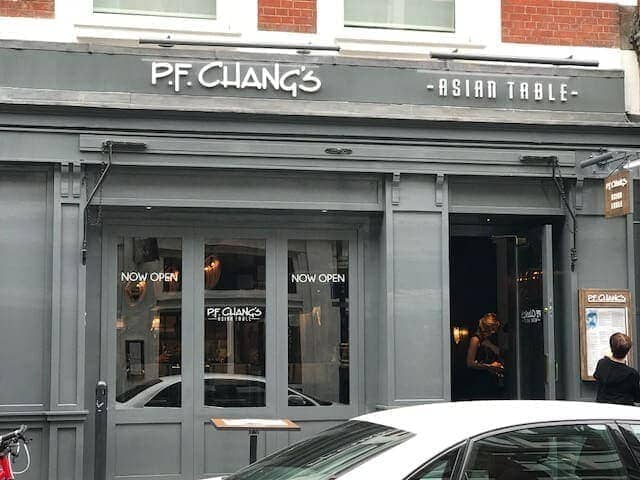 The popular American restaurant which first started over 20 years ago, with over 200 restaurants around the world, has arrived in London. The 138-seat restaurant opened in Covent Garden on Friday.
Philip Chiang, the founder of PF Chang's, has created a special concept for his London restaurant, to celebrate his love for art, music and food.
"I was born in China and grew up in Japan where I developed a passion for art and travel, which has become my inspiration for this menu. It is a collection of street food and modern adaptations of classic dishes from various parts of Asia, tailored uniquely for London." Philip Chiang
Location
The basement of this trendy location, 10 Great Newport Street, happens to be the former site of Studio 51, where Eric Clapton had his first gig and the Rolling Stones had residency in 1963. It's said that this was where the Beatles gave the Rolling Stones their first hit 'I wanna be your man'.
Decor
As homage to this, the wall of the bar is decorated with gold vinyl records.
Fluid Movement, the people from Worship St Whistling Shop work, behind the bar to create the drinks.
Between the ground flour and the basement, is a huge mural, over 4 meters high, created by the street artist, HOOD.
The restaurant is a large modern space with an open kitchen at the back and an in-house bakery in the basement. We are seated at the Chef's table at the back of the restaurant, which has the best views of the chefs preparing the food under the direction of Deepak Kotian (formerly of Nobu).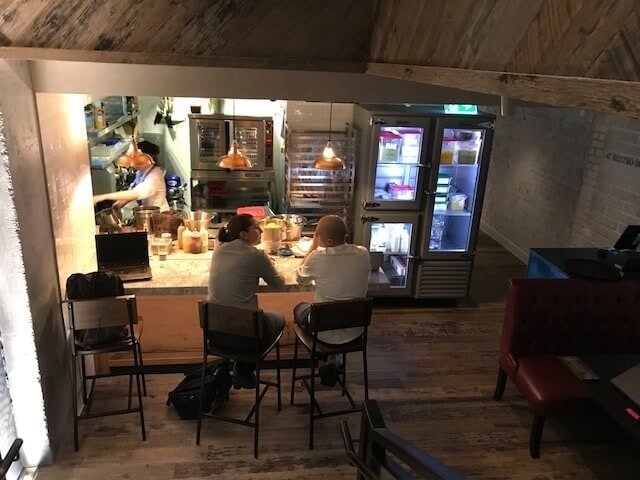 PF Chang's menu
PF Chang's has what they call a Farm to Wok philosophy, which means that dishes are prepared from scratch everyday, using fresh ingredients. Everyday, vegetables and meats are freshly sliced, sauces made from scratch, and dim sum and egg rolls are freshly hand rolled.
PF Chang's is an all day restaurant so on weekdays, there is a breakfast menu and on weekends, a brunch menu, with options such as:
Everything Bao – sliced smoked salmon, boiled egg, with basil horseradish in a honey lotus bun
Lobster Benedict – toasted muffin topped with a herb lobster mix, poached egg and homemade hollandaise
Wonton Lorraine – mixed vegetable, egg and cheese, bacon mini quiche with shiitake mushroom, cheese and a wasabi crème fraiche.
The menu lists a variety of small plates for tasting, and large plates for sharing.
We were a large group so we ordered many dishes to share: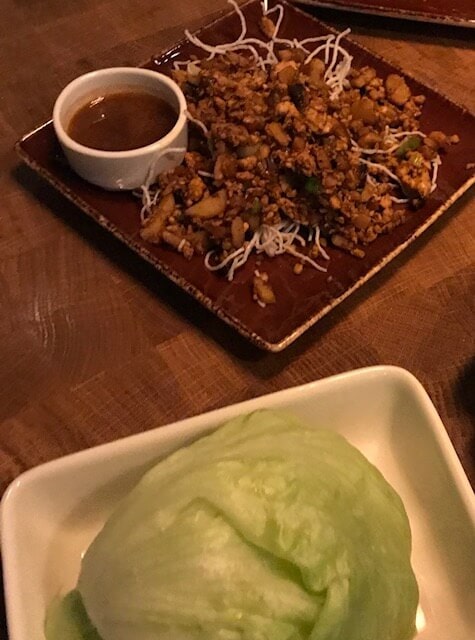 Original Chang's Chicken lettuce wraps – wok-seared chicken, mushrooms, green onions and water chestnuts over crispy rice sticks lettuce cups – wrap in lettuce and dip in an amazing sauce!
Original Dynamite Shrimp – tempura battered prawns, served with lettuce leaves, lightly tossed with a sriracha aioli (sweet, tangy and spicy), and absolutely delicious! (probably what they are best known for).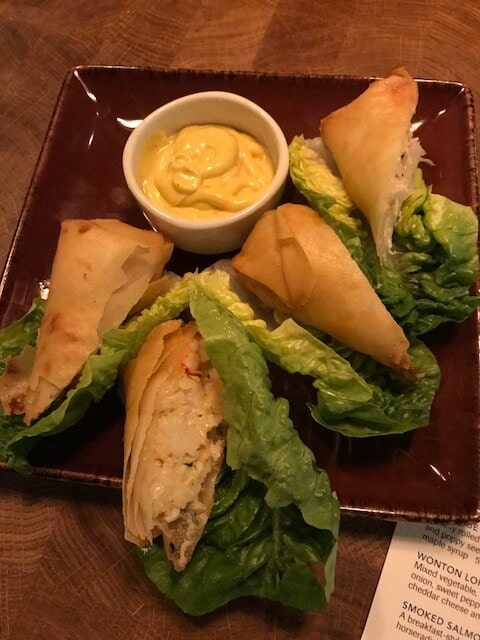 Handmade Lobster and shrimp spring rolls – sweetest claw and knuckle meat, curry aioli sauce, these were tasty rolls which you wrap in lettuce and dip in sauce.
Chilli jam wings – finger licking good crispy chicken, Hunan spice, sweet chilli jam, toasted sesame seeds, pickled cucumber, daikon.
Chang's Chicken – wok-fired sliced chicken tossed in chilli paste, garlic, vinegar and sugar
both were very good
Egg fried rice
Black pepper carrots – carrots, scallions, spicy black pepper sauce
Charred vegetable board – seasonal vegetables charred for a smoky flavour and served with an aromatic sesame sauce – served with a chilli and salt mixture to sprinkle on top, a slice of lime and a dipping sauce (we didn't enjoy this much).
Finally, for dessert:
Gorgonzola Cheesecake – a baked cheesecake, topped with sour cream and a gorgonzola crumb. Served with candied walnuts and a mascarpone filled, port poached pear
Sticky Toffee Pudding – served warm, with hot toffee sauce and vanilla ice cream – the best one!!
Flourless chocolate cake – a dark rich mousse-style cake served with strawberries and coffee ice cream
We had a most enjoyable evening!
10 Great Newport Street
London
WC2H 7JL
Tel:01923 555161
Opening hours
Sunday-Wednesday 11am – 11pm
Thursday – Saturday 11am – 12am