This nut free pesto is rich, creamy and simply wonderful! It is quick and easy to prepare, with the option to use a special ingredient!
A freshly made pesto sauce is simply delicious, and the aroma it creates in the kitchen is heavenly!
This nut free version is creamy, full of fresh flavours and allergy friendly.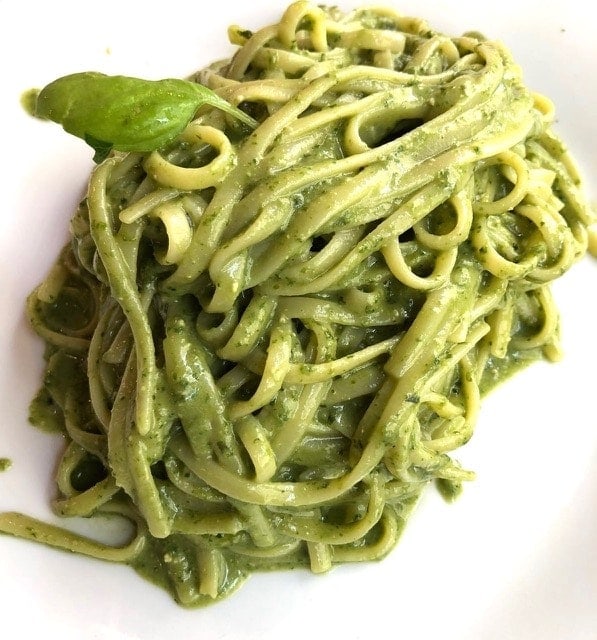 The ingredients are blended together to create a wonderful depth of flavours and when mixed with warm pasta, the flavours absolutely bloom.
Are you looking for a recipe for pasta sauce? Check out our ricotta and tomato sauce, or try this Napolitana sauce with any shape pasta.
If you need a sauce for garnishing or spreading, try this tangy Indian green chutney, a colourful cranberry sauce or this tasty guacamole.
Pesto Alla Genovese
Pesto has its origins in Roman times, while the pesto we know today is originally from Genoa in Liguria.
Pesto Alla Genovese is a delicious uncooked sauce with concentrated flavours of basil, garlic and cheese, brought together with a mild olive oil.
It is usually made with pine nuts which deliver a slight sweetness and creaminess. The classic recipe is now protected by the disciplinary consortium of Genovese Pesto.
Different versions of pesto
Different versions of this well loved sauce have since developed around Italy and beyond.
There are pesto recipes which replace pine nuts with other nuts such as almonds or walnuts, while store bought pesto often contains cashew nuts.
Pesto alla Siciliana, (Red pesto) is a Sicilian version of pesto made using tomatoes.
Basil pesto without nuts
As we have a couple of nut allergy sufferers in the family, I was interested in making a nut free pesto without losing the sweet creaminess they give.
I discovered that Joe & The Juice have a nut free pesto sauce which works well in their sandwiches, so I thought I would try their version. They replace pine nuts with wait for it…banana!
So I thought I would try it and made a version at home using only a tiny bit of mashed banana.
I have to admit, the sauce on its own does have a slight aftertaste, but it is not discernible when spread in a sandwich or combined with roasted vegetables or meats.
The mashed banana actually lends a slightly sweet flavour and creamy texture, replicating the effect of pine nuts quite well.
The recipe below is based on the original pesto from Genoa but gives the options to replace pine nuts with banana.
I realise adding banana isn't for everyone so you can leave it out, but it is worth trying.
How to serve it
Try this pesto with any of these dishes.
linguine
potato gnocchi
pasta with potatoes and green beans – Ligurian style
tomatoes and mozzarella
as a dip for veggies
grilled chicken or fish
spread in sandwiches
Pestle and mortar vs blender
Pesto comes from the Italian pestare (to pound) and the traditional and preferred method of preparing pesto is to use a pestle and mortar.
Although it is more time consuming than using a blender, you will have more control over your ingredients to adjust quantities according to taste.
The manual grinding process gives the pesto a more interesting uneven and satisfying texture which coats the food well.
Pesto made this way also tastes creamier, has better colour and will stay fresh longer.

A blender is the most convenient method for grinding the ingredients if you are making a large amount or if you are short on time.
Blend on a medium-low setting in short pulses, as a high setting/long pulses creates too much heat, turning the leaves black and losing flavour.
Which pestle and mortar is best?
Pestles and mortars are made in a variety of different materials such as stone (marble, granite), ceramic, wood, metal (cast iron, copper), or terracotta.
In Italy, a marble mortar and wooden pestle is the traditional for making pesto. The marble keeps the basil leaves cool and the wooden pestle not too heavy.
Together they are perfect for crushing the delicate leaves to extract their oils, rather than pounding them to slime! The slow grinding releases the wonderful aromas of garlic and basil leaves.
Choose a mortar with a bowl large enough to accommodate enough leaves, and a pestle big and round to crush and blend the ingredients together.
Helpful tips
Follow these helpful tips for a delicious, creamy pesto with rich, deep flavours!
Choose small, fresh, undamaged basil leaves. Rinse them in cool water, then wipe dry, taking care not to crush them.
Crush the garlic with a just a pinch of salt (as the cheeses are salty).
Grind the basil using light circular motions, pressing into the sides of the walls, cutting up the leaves and releasing the oils.
Use a good quality, mild olive oil to bring together all the flavours and make a creamy sauce.
Storing
Pesto will darken on exposure to air, so store it submerged under a thin layer of oil.
Fresh pesto always has the best flavour, but will keep in an airtight container for a couple of weeks in the fridge.
The banana (if using) reduces the amount of time it can be stored in the fridge.
Fresh pesto (with or without banana) can also be frozen in ice cube trays then stored in zip-loc bags.
More Dips & Sauces recipes
---
⭐️ Are you making this pesto nut free recipe? Do let me know how it turned out in the comments! And please give it a star rating below!
Instagram – I love seeing your creations, so post a picture, tag @endofthefork and hashtag #endofthefork
⚜
📋 Recipe
Basil Pesto Without Nuts
This nut free pesto is rich, creamy and simply wonderful! It is quick and easy to prepare, and uses a special ingredient!
Ingredients
120

milliliters

olive oil

½ cup

40

grams

basil

2 cups, small fresh leaves

2

cloves

garlic

3

tablespoons

Parmesan Reggiano cheese

freshly grated

2

tablespoons

Pecorino sardo cheese

(aged) freshly grated

sea salt

to taste

1

tablespoon

mashed banana

optional
Instructions
Wash the basil leaves taking care not to damage them, and wipe dry with a kitchen towel.

2 cloves garlic,

sea salt

Using a pestle and mortar, crush the garlic and salt to a paste.

1 tablespoon mashed banana

Add a few basil leaves at a time, grinding in a light, circular motion, till all the leaves have been cut to small bits and add the cheese. Mix in the banana if using.

3 tablespoons Parmesan Reggiano cheese,

2 tablespoons Pecorino sardo cheese,

120 milliliters olive oil

Stir in the oil , add the grated cheeses and mix well till fully amalgamated. Serve immediately.
Notes
Further details are in the post above
If using a blender, blend the garlic and salt first, then add the leaves.
Blend in short pulses, stopping to push down the leaves every so often, till it becomes a paste.
Spoon out into a bowl/jar, and stir in the banana and cheeses, then mix in the oil.
To serve with pasta, mix in a little of the starchy pasta water to combine it well.
Fresh pesto always has the best flavour, but will keep in an airtight container for a day or two in the fridge.
Pesto will darken on exposure to air, so make sure there is a layer of oil covering the pesto before sealing and storing in the fridge/freezer to prevent oxidation.
Blend with 1 tablespoon banana for extra creaminess, but this will reduce the amount of time it can be stored in the fridge.
Pesto can also be frozen in ice cube trays, and stored in freezer bags.
ADD NOTES
Only you will see your notes and you can edit them anytime.
Nutrition
Calories:
271
kcal
Carbohydrates:
2
g
Protein:
3
g
Fat:
29
g
Saturated Fat:
5
g
Cholesterol:
5
mg
Sodium:
91
mg
Potassium:
49
mg
Fiber:
1
g
Sugar:
1
g
Vitamin A:
662
IU
Vitamin C:
3
mg
Calcium:
95
mg
Iron:
1
mg
Nutritional information is calculated automatically and accuracy cannot be guaranteed. The information above is an estimate per serving.
Did you make this recipe?
I'd love to know how it turned out, let me know by rating the recipe or leaving a review below. Share your photo of the dish on Instagram tagging @Endofthefork.
@ EndoftheFork.com. Content and photographs are copyright protected. Sharing of this recipe is encouraged and appreciated, however copying and pasting full recipes to social media or other platforms is strictly prohibited.