Celebrate Cinco de Mayo with the fresh, tangy and spicy flavours in these mouthwatering Mexican dishes.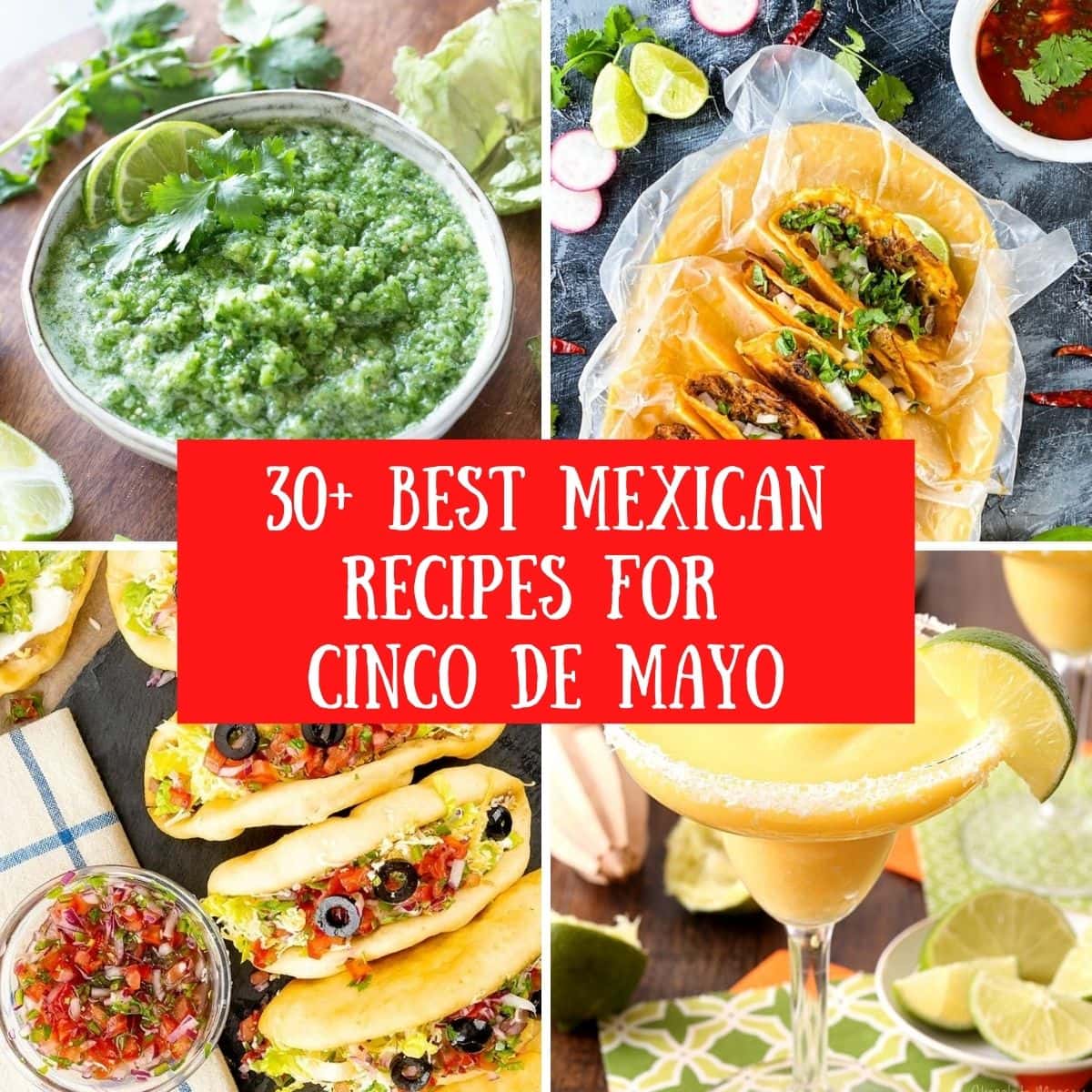 It's that time of year again with Cinco de Mayo just round the corner. So I bring you this roundup of easy and delicious Mexican recipes from talented bloggers across the internet, with a few from End of the Fork.
You will find a mix of traditional dishes and some with new flavours to try, from the all important dips and sauces, to irresistible finger food, main courses, desserts and drinks.
So if you are planning a Cinco de Mayo party, a Mexican fiesta, or any time you have a craving for Mexican food, this collection is for you!
Jump to:
What is Cinco de Mayo?
In case you were wondering, Cinco de Mayo commemorates the date of the Mexican army's victory over the much larger French army in the Battle of Puebla in 1862.
It is not really celebrated in Mexico, but in the U.S. it is a day of great festivity, heavily promoted by beer companies as a day to celebrate Mexican-American culture with food, drinks, parades, music and dancing.
With Cinco de Mayo celebrations becoming increasingly popular here in London and the rest of the world, such as Spain, Australia, South Africa and Japan, this collection of tasty Mexican dishes will certainly help get the celebration started!
Dips and sauces
Sauces play a big role in Mexican cuisine, and no feast is complete without some tangy and spicy dips for nacho chips or just as extra toppings.
Finger food
Find your favourite Mexican finger foods here, from crunchy tacos, mouthwatering fajitas to cheesy quesadillas, these are a must have for any Mexican celebration.
Mains
Save some room as you won't want to miss these delicious main dishes.
Dessert and Drinks
Round off the feast with something sweet because it's not a fiesta without dessert and drinks.
Related posts
Are you making any of these Cinco de Mayo recipes? I would love to hear about it in the comments below, thank you!
Instagram – I love seeing your creations, so post a picture, tag @endofthefork and hashtag #endofthefork