Find out which figs and best for flavour and how to cook with them.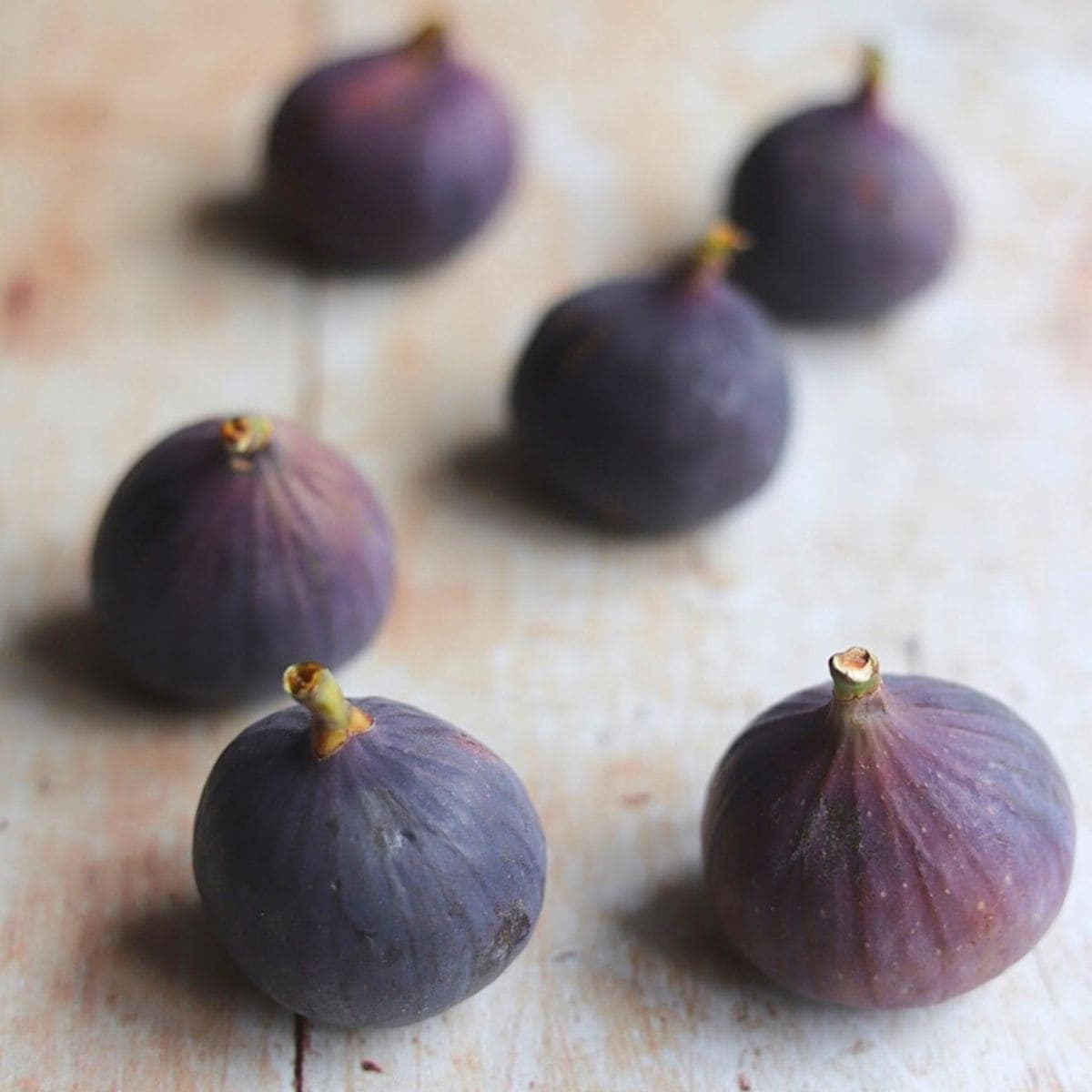 Figs have incredible flavour and can be eaten either raw or dried, popular as a snack on their own, in salads, as a garnish, or for jams. They have a slightly chewy skin, and a sweet juicy pulp with tiny crunchy seeds.
Fresh figs are in season twice a year in some countries (such as Italy and France) with a short season at the beginning of summer, and a slightly longer one from August till late summer.
Here in England they are available from August till early October when markets stock some of the most popular varieties.
They grow easily around the Mediterranean, and are found in plentiful supply in the markets during the summer. I have never tasted such sweet and juicy figs as those on the Dottato fig tree in my aunt's garden in Tuscany, with a tiny honey drop underneath.
Supermarkets here in UK prefer to stock firm figs as they ripen very quickly and do not last longer than a week after harvesting. If your figs are firm, you will need to wait a day or two for them to soften before they are ready to use.
As figs are so fragile and do not transport well, most figs harvested are sold dried, and these are available throughout the year.
Jump to:
Find out why we should be eating seasonally and more useful tips for the home cook such as how to select a good olive oil and why you should not overcrowd the pan.
Best for flavour
These varieties are some of the best tasting figs you may come across in the market and are available fresh or dried.
Black Mission (black or purple skin, pink flesh). These are the sweetest variety, delicious on their own or mixed with yogurt, ricotta, crème fraîche, or served with cured meats and strong cheeses.
Brown Turkey (brownish dark purple skin). They are a little less sweet than Black Mission, and are wonderful in salads, grilled/baked with honey or made into jam.
Calimyrna (Large greenish yellow fruit, deep pink flesh). They are the largest variety with a slightly thicker skin. They have a more pronounced nutty flavour than other figs and are perfect served raw on a charcuterie or cheese platter, or baked/grilled.
Dottato (Kadota in US) (greenish skin, pale pink flesh). These are creamy, sweet and almost seedless, with a 'honey drop' underneath. They can be eaten raw, cooked, turned into jam.
Ventura (grayish green, deep red flesh). These are a late season ripening variety, and taste quite a bit like strawberry jam.
Selecting figs
Fresh figs are normally 3-5 cm (1.2-2.0 inches) in size. They come in a variety of colours depending on their variety, ranging from green to purple or brown.
Select those which are plump, firm and soft with unbroken skin and free from bruises.
Ripe figs need to be handled with care as they are extremely fragile and will burst open easily.
Reject any that are mushy or smell sour as those will be over-ripe.
If you are buying dried figs, make sure they are clean, without any mold, and have a sweet, not sour aroma.
Preparing
Cook figs for a sweeter and more intense flavour. As they are high in sugar, they caramelize wonderfully when baked or grilled.
Here are some different ways to prepare figs:
First prepare the figs by gently rinsing, then pat dry and trim the stems. Halve the figs by slicing down the middle.
In a skillet – sprinkle spices/sugar of your choice over the figs. Heat a little olive oil or butter on medium heat in a heavy bottomed skillet, and arrange the figs face up in the pan and then use tongs to turn them face down in the pan. Cook for around 7 minutes till tender.
Poached – use 1 cup dried figs. In a small saucepan, combine 1 cup juice/wine with ¼ cup sugar (adjust quantity as required), spices, salt and pepper. Add the figs and bring to a boil, then reduce to simmer for 20 minutes till the liquid has thickened. Remove from the heat and serve with a garnish of your choice.
BBQ/Grilled – sprinkle spices or herbs over the figs and place face up on a BBQ or grill, turn after a few minutes as they begin to brown. Cook till tender, then drizzle with syrup.
Baked – Preheat oven to 180℃/160℃ fan/350℉. Line a baking tray with parchment paper and arrange the figs facing upwards. Sprinkle spices, brown sugar or honey over them and bake for 20 minutes. Allow to cool before removing.
Try making baked figs with goats cheese and honey or caramelized spiced figs.
What to eat with fresh figs
Fresh figs are wonderful eaten on their own or with salty cheeses or meats.
Garnish with herbs or spices to make wonderful appetizers or desserts for the colder weather.
Here are some flavours that pair well with figs:
Spices: cinnamon, cardamom, cloves, nutmeg, vanilla, anise, black pepper
Sweet: honey, maple syrup, agave syrup, brown sugar, chocolate
Herbs: rosemary, thyme, basil, oregano
Cheeses: stilton, goats cheese, gorgonzola, mascarpone, brie, camembert, parmesan, taleggio, manchego, etc
Other dairy: crème fraîche, ricotta, mascarpone, yogurt
Nuts: pecans, walnuts, pistachios, almonds, hazelnuts
Cured or roasted meats
Vegetables: onions, beets, garlic, ginger, beets, carrots, sweet potatoes
Fruit: pears, raspberries, peaches, bananas, oranges, apples
Vinegars: balsamic, sherry
Fresh vs dried
Fresh figs contain have a higher water content and therefore are more filling than dried figs.
All varieties of figs are available dried. Dried figs are higher in carbohydrate, dietary fibre and protein content than fresh figs.
Dried figs
Dried Figs are a wonderful snack on their own, or use them to add delicious rich, sweet flavour and texture to dishes.
Why not chop dried figs into small pieces and use as a garnish for:
They are also great in baked into cakes, breads, muffins such as :
Storing
Store raw ripe figs in the fridge for up to 2 days.
They can be frozen whole or cut into pieces. Place them in a sealed bag and they will keep for up to 6 months, then defrost in the fridge before using.
Unripe figs should be stored at room temperature in a cool dry place, and usually take a day or two to ripen.
Cooked figs will last up to 5-6 days stored in a sealed container in the fridge.
Dried figs will keep for 6-12 months, wrapped or in a sealed bag/container, in the fridge or a cool dry area.
Related posts