Olive oil is known to be the healthiest oil, and essential to Italian cuisine but with so many fake extra virgin olive oils on the market how do you pick the real thing?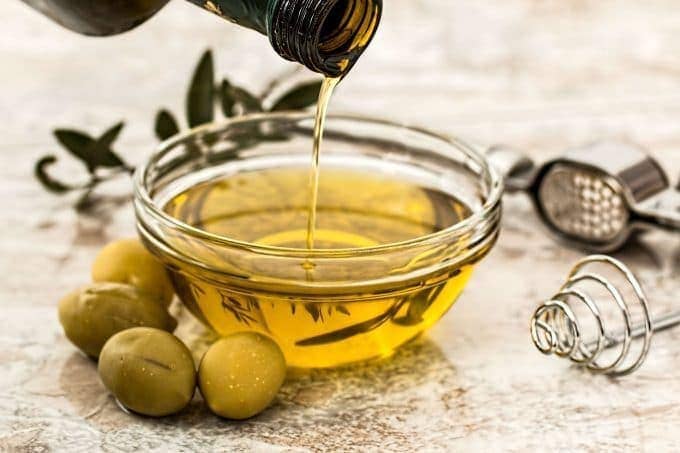 Good quality and fresh ingredients are an important part of Italian cooking and often determine the success of a dish. Italian cooks usually have a good knowledge of ingredients and are very particular in selecting the best quality for flavour and nutritional value.
Picking a good quality olive oil is equally important. (Read An Evening Of Italian Olive Oil Tasting)
Click on the Subscribe button above to get more articles like this to your inbox.
Jump to:
Cooking with olive oil
The best quality olive oil is usually served 'raw', adding a wonderful peppery or fruity layer of flavour drizzled over soups, bruschetta, pasta, vegetables, grilled meats or fish.
It is also used to make sauce bases, cook meats and fish and even to make bread and prepare desserts.
Olive oil can also be used for frying. It has a smoke point of 210℃/410℉, which means it is suitable for home use.
It's good for you
So, how is extra virgin olive oil good for you?
Extra virgin olive oil is high in monounsaturated fats (a healthy dietary fat), with high levels of antioxidants, and anti inflammatory properties.
Researchers claim that olive oil can help reduce harmful cholesterol (lowering the risk of heart disease), and can help stabilise blood sugar levels.
There is also the suggestion from the University of Florence, that olive oil might help improve cognitive functioning.
What to look for
We like Italian or Spanish olive oil!
Using modern technology combined with important traditions in methods of cultivation, Italy produces some of the world's best olive oil.
However it is thought around half of what is labeled as extra virgin olive oil is in fact combined with oils from other countries.
EU laws maintain that as long as an oil is packaged in Italy it can be marked as 'Made In Italy', 'Imported from Italy' or 'Bottled in Italy', so its important to know how to select a good olive oil.
Good quality olive oil can be found at reputable stores who are mindful of sourcing their products. These stores often offer the option to taste the oil before you buy.
Elsewhere the following tips will help.
Read the label
Look for 'extra virgin olive oil' on the label. Do not select anything labelled as 'pure', 'virgin', or just 'olive oil'.
Extra virgin olive oil is the highest grade and is extracted without the use of solvents or refining methods. It has a smooth and superior flavour, with less than 0.8% acidity.
Virgin olive oil has a higher acidity at 2%.
Pure olive oil (which is a refined oil), has an even higher acidity higher at 3.3%.
But this tip alone is not sufficient as many oils labelled extra virgin are prepared using chemicals and are even diluted with cheaper vegetable oils.
They will not have the same nutritional value or delicious flavour as those which have passed certification.
What else?
Look for the harvest date, variety of olive pressed and the estate name.
A good quality oil (as you might have seen on bottles of Italian wine), will have the marks PDO (Protected Designation of Origin) and PGI (Protected Geographic Origin).
These labels prove certification, protecting against imitation, and ensure that the olive oil is produced according to strict guidelines, certifying a high standard of production and an excellence of product.
Colour
Colour is not a good indicator of quality in olive oil as colour can vary between varieties.
There are many different types of extra virgin olive oil depending on the cultivar, age of the olive at harvest, altitude, when harvested and how the olives are pressed.
Olive cultivars used for high quality oils can produce oils from shades of yellow to a deep green.
Taste
What should extra virgin olive oil should taste like?
A good olive oil should have a wonderful fresh aroma and taste fruity, pungent, bitter or nutty- depending on the cultivar. If the opportunity arises do taste before you buy.
Cost
A good olive oil will cost more than and those which are a mix of cheaper oils, but it is absolutely worth it for a superior tasting oil (important for salads and drizzling over meats and vegetables) plus its high nutritional content.
You may also like …
Find more useful tips for the home cook such as why its best to eat seasonally and why you should not overcrowd the pan.