A brief guide to commonly used Indian spices and how to use them.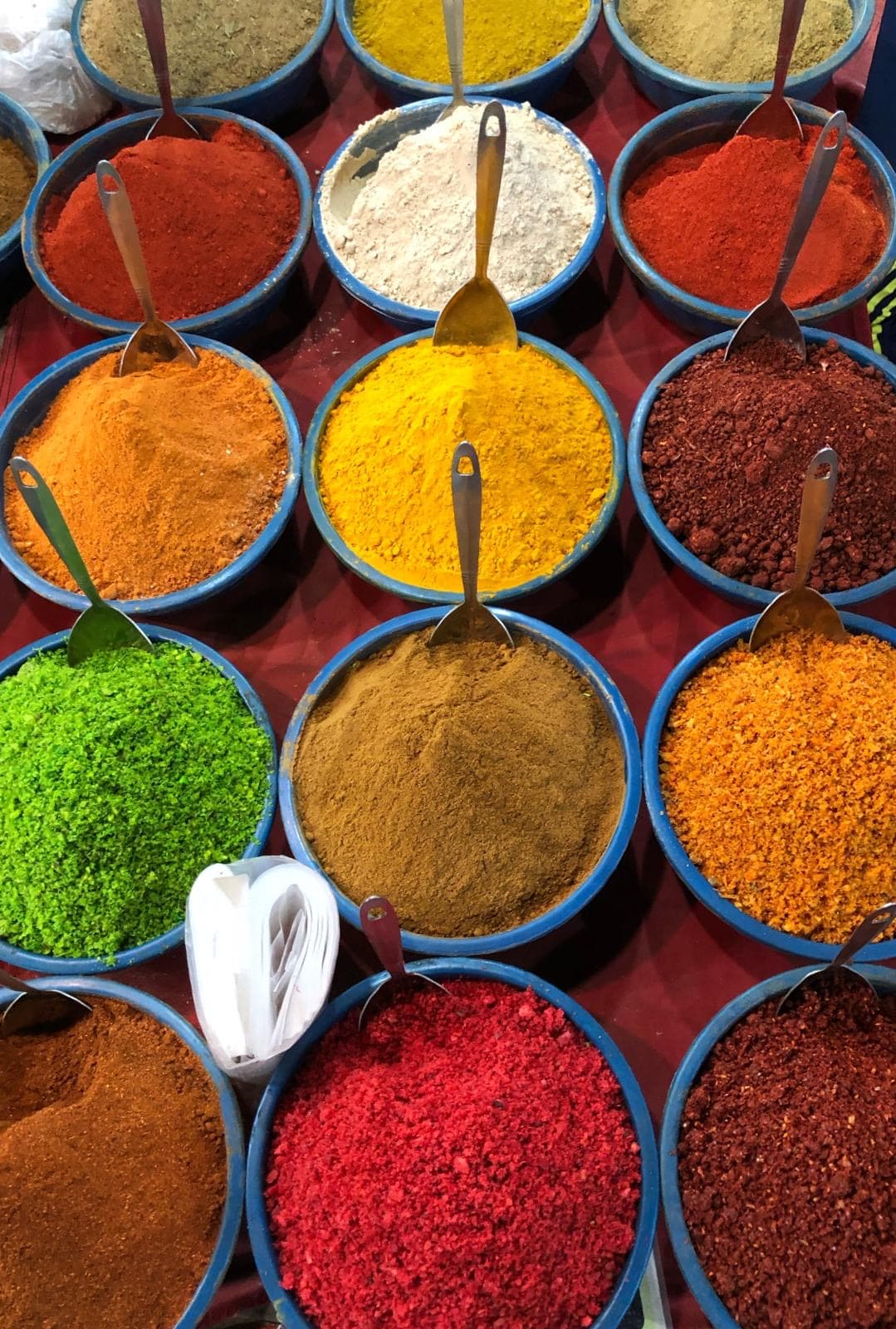 Indian cuisine uses many different spices (masala) in various forms from whole spices, to semi-crushed, those ground into powders, blended with other spices or made into a paste.
Spices are not just used to create a layering effect in building complex flavours and aromas, but are also valued for their nutritional and medicinal properties which are rooted in Ayurveda (Indian medicine based on ancient scriptures).
This is why in India, since ancient times food has always been regarded as nourishment with important therapeutic and healing properties.
Indian cuisine varies greatly from state to state, even within states and according to religion, so it is not surprising that you may require a fairly large arsenal of spices to prepare various Indian dishes.
Generally though, throughout India some of the most commonly used spices are turmeric, cumin, coriander and chilli.
Below you will find a list of the most commonly used spices covering the wide range of cuisine from around India.
Jump to:
How spices are used
Various spices are used in the different stages of Indian cooking from:
marination
lightly dry roasting whole spices to release their flavour (such as mustard and cumin seeds)
sautéeing in oil or ghee (eg turmeric, cumin and coriander powders)
towards the end of cooking (eg mace, garam masala)
as a garnish (eg garam masala, chat masala)
It is useful to have the masalas for the recipe ready to hand either in a spice tin (like the one below) or in separate bowls before cooking so they are easily accessible and nothing is left out.
Find more useful tips for the home cook such as why its best to eat seasonally and how to cook meats to the correct temperature.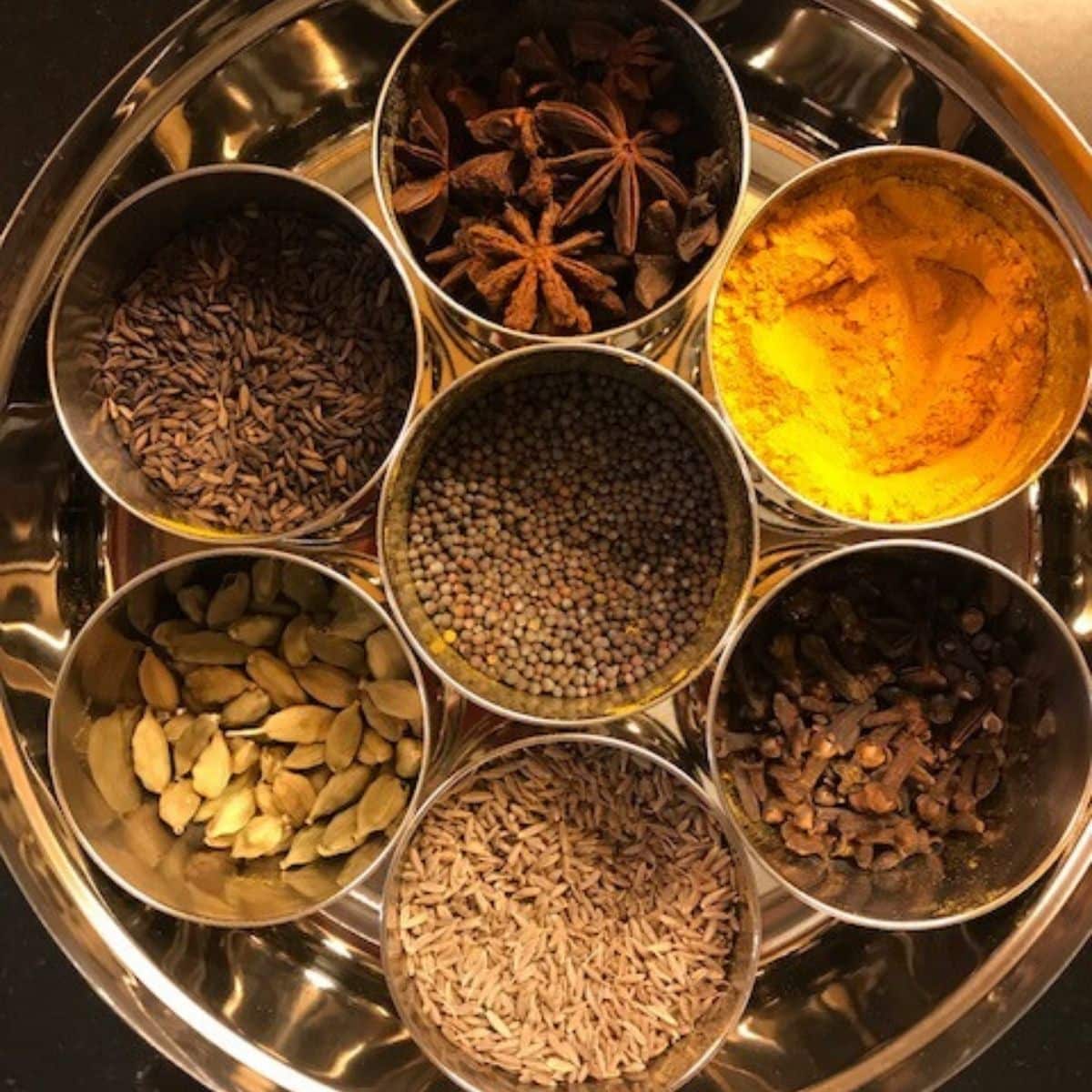 Grind your own spices
It is always preferable to purchase whole spices and grind them as you need them. This is because after grinding the oils dry up and the spices lose flavour the longer they are stored.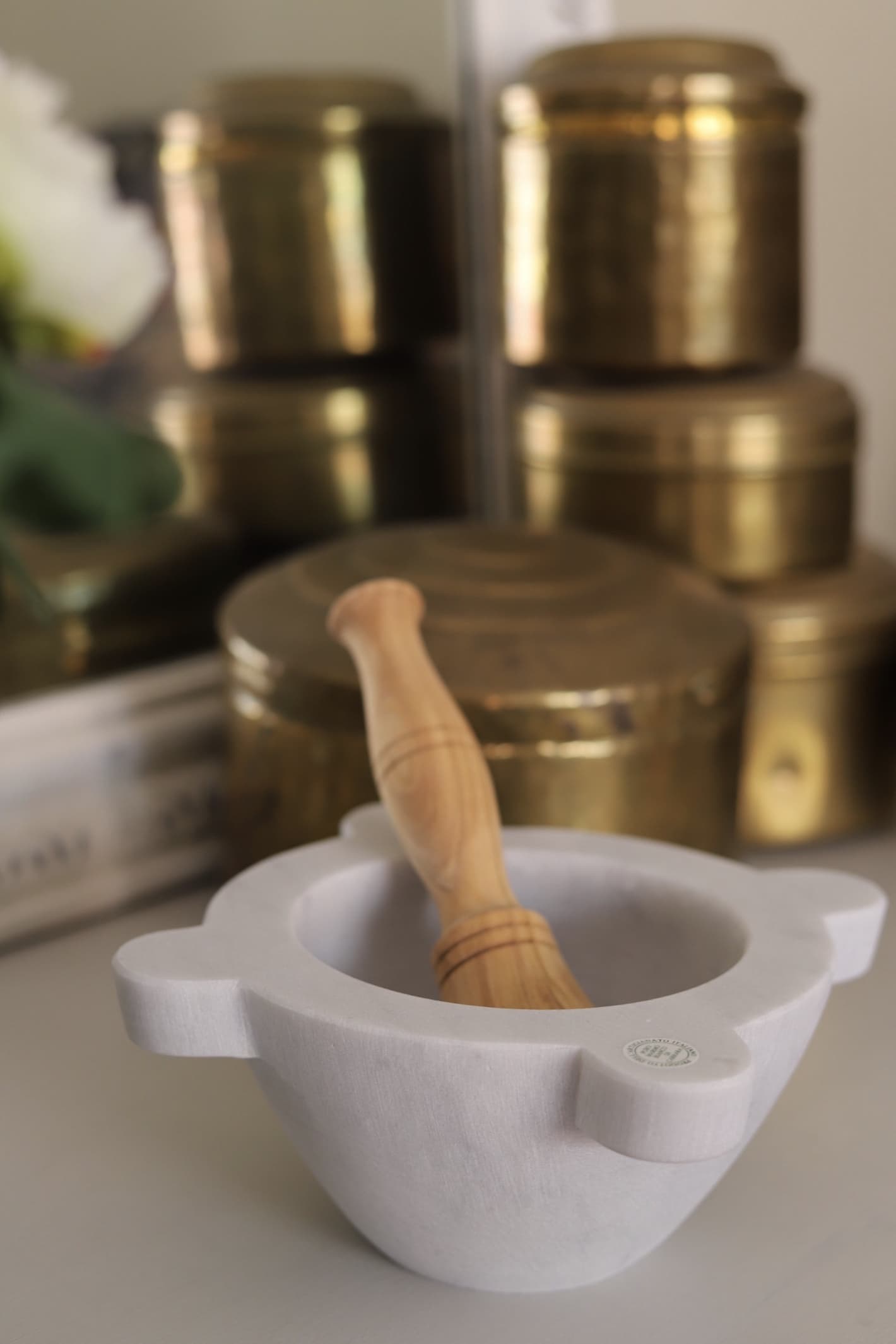 Many of these spices are rather hard, so the best way to grind them is either to use a coffee bean grinder, or a pestle and mortar . A coffee or spice grinder is easier and quicker.
Spice mixes
Many cooks prefer to make their own spice mixes from scratch as often store bought mixes often contain food colourings, bulking agents such as flour and unmeasured quantities of individual spices.
Making your own spice mixes allows you to control the quality and proportions of ingredients.
If you prepare your own spice mixes, like Garam Masala or Chaat Masala, it is best to make small quantities just before you need them so the flavours remain fresh and strong.
These are a few popular spice blends where whole spices are first dry roasted and then heated gently on a low-medium heat before grinding to a powder. Note: there are many different regional variations of these spice blends.
garam masala – green cardamom, coriander seeds, cumin seeds, cloves, cinnamon, peppercorns
pulao masala – black cardamom, cloves, cinnamon, peppercorns, Indian bay leaf, star anise
curry powder – coriander seeds, red chillies, turmeric, peppercorns, cinnamon, cloves, fennel
sambar powder – red chillies, coriander seeds, turmeric, fenugreek seeds, mustard seeds, asafoetida, split Bengal gram, split black gram, split red gram, pepper, curry leaves, cumin
rasam powder – coriander seeds, pepper, split Bengal gram, split red gram, cumin seeds, turmeric, red chillies
panch phoran – mustard seeds, cumin seeds, onion seeds, fenugreek seeds, fennel seeds
chaat masala – black peppercorns, salt, rock salt, clack salt, Indian bay leaf, cloves, cardamom, cinnamon, dry ginger
Storing spices
Spices are best stored in a masala dabba (see image above), which is a round metal box with a tight fitting lid to ensure they remain fresh and dry.
The box will usually hold seven small bowls for the most commonly used spices and they are so convenient to have on hand while cooking.
I use a couple of these boxes as often a recipe will require a few more spices.
Commonly used Indian spices
These are the most commonly used spices to make a variety of Indian dishes from around the country.
Asafoetida hing
This is the hardened resin from the root of a plant, in its raw state it is extremely pungent with a garlic-y sulfur smell. However when heated in oil the aroma dies down and the taste improves tremendously giving it a leek or onion-like flavour.
It is a popular spice in many parts of India and during festivals when religious dietary requirements rule out the use of onions and garlic.
It is considered a good alternative to using garlic and onions in a dish as the powder replicates those flavours and adds an super savoury, umami flavour to any dish.
Asafoetida is usually used in its powdered form, mixed with rice and/or wheat flour, turmeric, and gum arabic.
Only a small amount is required at a time as too much asafoetida can ruin a dish.
Recipes: Gujarati Corn, Khaman Dhokla
Black pepper kali mirch
These dried small round berries add a delicious hot peppery flavour to any dish.
Whole berries can be added at the beginning of cooking, or crushed and added as garnish.
Dry roast and grind the peppercorns to add towards the end of cooking any dish.
Black mustard seeds rai
These have quite a spicy pungent flavour. They are normally dry roasted on a low flame (till they start popping), to release their flavour, before adding other spices. They are also used to temper dals, and in pickles.
Recipes: Masoor Dal, Turmeric Pickle
Black Indian salt kala namak
This is Indian volcanic rock salt, with a sulfurous smell. The crystals are black and pink but when ground, they produce a greyish pink colour.
With a lower sodium content than sea salt, it can be a good substitute for people on a low-sodium diet (consult a physician first).
The powder is used to make chaat masala, Jiralu, pickles and chutneys. It has a slightly salty umami taste, and tastes similar to eggs making it popular with vegans to create egg-free dishes.
Try it sprinkled it on cooked meats, fried food, raita or salads.
Recipes: Jiralu, Cucumber and Onion Raita
Cardamom (green) elaichi
These green pods hold small dark brown seeds inside. They are usually used crushed or freshly ground.
Cardamom is very aromatic and gives a wonderful clean, sweet and lemony flavour.
It is a very popular spice and is used in savoury and sweet dishes, also for Masala Chai
Recipes: Butter Chicken, Kheer, Masala Chai
Cardamom (black) kali elaichi
Black cardamoms are very different from green cardamom in both appearance and taste. They are large dark brown pods containing seeds and the entire pod is used whole or ground to flavour savoury dishes.
They have a strong, smoky, camphor flavour and are warming and quite aromatic.
They are used in garam masala mixes, curries, dals, and biryanis.
Recipes: Chicken Do Pyaza, Punjabi Chicken Curry
Cinnamon dalchini
Not to be confused with the cheaper rolled cassia bark from China, cinnamon bark from Ceylon is thicker and sweeter, and looks more like sticks.
Cinnamon is mainly used in savoury dishes for its warm sweet flavour. It can be used in powder form or whole, either dry roasted to release its oils which enhance the flavour, or lightly fried in oil to flavour the oil.
It is a spice in garam masala and is used in meat and rice dishes as well as chutneys.
Cloves lavang
They are aromatic dried flower buds from a tree. They are highly aromatic and impart a warm, sweet and pungent flavour. They can be used whole or powdered.
Cloves are used in garam masala mixes, meat and rice dishes.
Recipes: Chicken Do Pyaza
Coriander or Cilantro dhaniya
The fresh leaves, hara dhaniya, are usually blended used to make chutneys, or chopped and added to curries as a garnish or salads. Heat tends to reduce their flavour, so leaves are used raw.
The leaves have a refreshing, lemon flavour for most people, but there are a few who have a gene that tastes a soapy flavour.
The small round light brown seeds are hollow and crunchy. They are usually used crushed e.g. in pickles, or ground to make curries and daals. Dry roasting in a skillet on a low heat, heightens their flavour.
When crushed, coriander seeds release a wonderful citrus aroma with a warm and earthy flavour.
Ground coriander loses its flavour quickly so it is best to heat and grind the seeds before use, rather than storing as a powder.
Ground coriander often used with cumin powder in curries.
Recipes: Coriander Chutney
Cumin jeera
Cumin or white cumin seeds are an essential spice for any masala box. They are long flat, brown seeds, not to be confused with caraway.
They have a very distinctive aroma with a warm, strong and earthy flavour which is capable of masking any gamey flavour in meats such as lamb or goat. Cumin with potatoes work extremely well too.
Dry roasting the seeds on a low flame brings out their flavour. Be careful not to overcook them as they burn easily, giving a very bitter taste and you will have to throw them away and start again.
Cumin seeds are also used to make breads such as roti and paratha. Lightly frying the seeds in oil gives a lovely flavour, as in this tempering for daal.
Ground cumin seeds are used to make mixes like garam masala and the popular Indian drink Jeera Pani. They also go very well in yogurt dishes and lassi.
Black cumin

shahi jeera
Often confused with caraway or nigella seeds, black cumin is milder than white cumin with a slightly sweet taste.
Once heated the seeds have a slightly nutty flavour. Black cumin is commonly used in Northern India to flavour rice and meat dishes.
A good substitute for black cumin is regular white cumin, not caraway or nigella seeds which have very different flavours.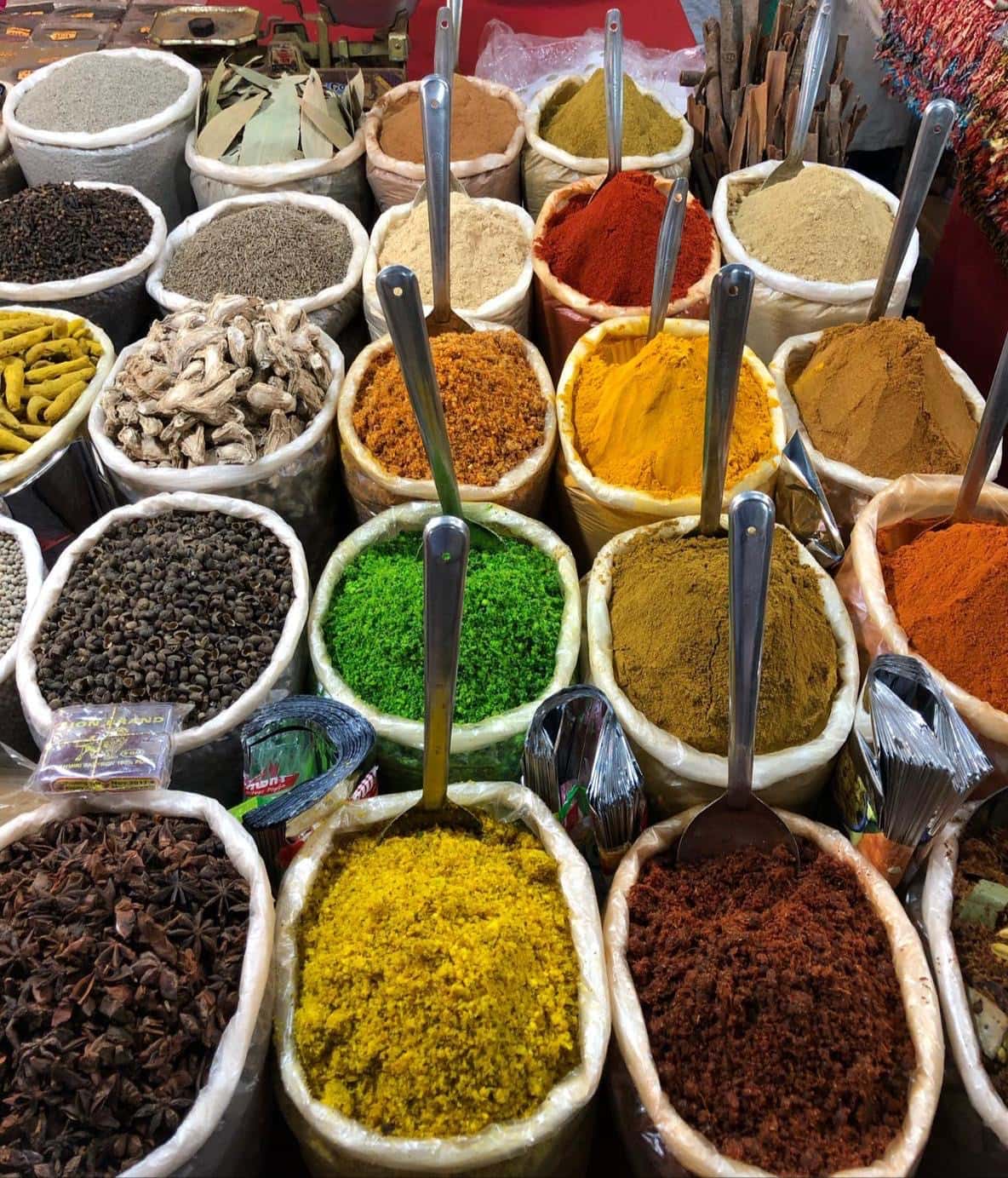 Curry leaves kari patta
These have an earthy curry and citrus flavour with a mild bitter after taste. Lightly fry them in oil to release their citrus notes.
The fresh leaves have a better flavour than the dried leaves and can be found in Asian supermarkets. They are used whole or dried and crushed and the leaves can even be frozen.
The leaves are often used to temper daals but are also used in curries and vegetable dishes.
Recipes: Masoor Dal
Fennel Saunf
These seeds are warm, aromatic and have a liquorice-like flavour which is similar though milder than star anise.
Fennel seeds can be used whole or powdered and are commonly used in Kashmiri and Gujarati savoury dishes. They are also frequently used in pickles.
It is one of the spices used to make Panch phoran (five spices).
Sugar coated fennel seeds (saunf mukhwas) are served in restaurants after a meal as a digestive aid and breath freshener.
Recipes: Mughlai lamb
Fenugreek leaves kasuri methi
These leaves are extremely pungent can be used fresh or dried. They have a slightly sweet, bitter and maple syrup flavour.
The fresh leaves are used for their strong flavour and aroma in dishes such as aloo methi (potatoes with fenugreek leaves) or for methi parathas.
The dried leaves are known as kasuri methi. Only a small amount is required as it is very strong. A pinch is usually added in the last few minutes of cooking to add an extra layer of flavour to a dish.
Recipes: Tandoori Chicken, Butter Chicken, Niter Kibbeh
Fenugreek seeds methi dana
These are small yellow hard seeds are lightly roasted to enhance their flavour and reduce bitterness.
They have a bitter, maple syrup flavour and may be used whole or powdered in pickles, vegetable dishes and in daals.
The seeds are an ingredient in Panch phoran and Sambar mixes.
Ginger adarak
Ginger is ubiquitous in Indian cuisine. It adds a clean, pungent and spicy flavour to any dish.
It is usually minced and added at the same time as garlic, or julienned to add as a garnish.
Indian Bay leaf tej patta
Indian bay leaves are not to be confused with European laurel bay leaves. When a recipe calls for the Indian bay leaf never substitute it with the European variety as the flavours are very different.
These aromatic leaves have a faint cinnamon fragrance and are browned in oil to release their flavour. They are used to flavour curries and rice, and can be used dried and ground in spice mixes.
If you cannot find Indian bay leaves, use a piece of cinnamon instead.
Mace javitri
This is the fruit which surrounds the nutmeg seed. It is peppery with a more delicate flavour than nutmeg.
Mace is ground to a powder and goes well with biryanis, pickles and red meat curries.
Recipes: Butter Chicken
Mango powder amchoor
This is a sour and tangy spice which is used as a souring agent and also acts as a thickener.
Amchoor adds a sour fruity flavour to curries, marinades and chutneys.
Nigella seeds kalonji
Nigella seeds are usually used whole but also ground to a powder. They have a pungent, nutty flavour.
They are one of the five spices in Panch Phoran, and are also used in curries, in fish dishes, pickles and Indian breads such as Naan.
Nutmeg jaiphal
This is the seed from the Mace fruit. It is warm, nutty and slightly sweet but strong so it is used sparingly, grated into curries, rice dishes and spice mixes.
Recipes: Biryani
Red chilli powder lal mirch
Red chilli powder made from ground Indian red chillies. There are different varieties of red chillies in India, the mildest being Kashmiri red chillies (deghi mirch). This variety is very popular chilli adds wonderful colour to a dish.
Bird's eye chilli powder packs quite a punch so it should be used carefully. Jwala (meaning 'an intense flame') chillies are the most popular variety of hot chillies in India.
Red chilli powder is used throughout Indian in marinating meats (tandoori chicken), in curries and vegetable dishes.
Find out how to make Indian Red Chilli Paste – an essential ingredient for many Indian dishes, adding mild heat, depth of flavour and red colour.
Saffron kesar
Delicate saffron threads are the most expensive spice in the world. They add aroma, a beautiful saffron colour to food and their flavour is strong so only a small amount is required at a time.
Their taste has been described as being sweet, similar to honey and hay-like.
The way to use saffron is to allow it to bloom by first soaking it for 30 minutes in a little room temperature water. This brings out the flavour of the dried saffron strands and the flavoured water can be used too.
Saffron is usually used to make desserts such as kesar kulfi, sweets and other milk based desserts like phirni. It is also used to flavour rice or added to curries, such as meatball curry.
Recipes: Carrot Halwa, Moong Dal Halwa
Star anise chakra phul
This star shaped, dark brown pod containing seeds is used whole or can be ground to a powder. It can be dry roasted, ground to a powder or lightly fried in oil.
It has a stronger liquorice flavour than fennel seeds and wonderful with meats, in biryanis and masala chai
Turmeric haldi
The turmeric root is usually ground and used as a powder in most savoury dishes.
Only a small amount is required as it lends its deep golden colour and gives a warm, earthy, peppery flavour but be careful because but too much can ruin a dish.
Turmeric is known for its fabulous antiseptic qualities. The root is also sliced to make the popular turmeric pickle in Gujarat.
Recipes: Turmeric Pickle